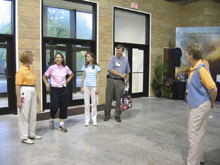 August 06, 2007 12:17 PM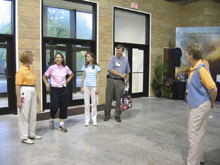 Are first impressions the most critical part of Approachable Service?
Maybe.
YES, it's true that first impressions are usually correct.
YES, it's true that first impressions are based on instinct and emotion.
YES, it's true that first impressions your customers form about you are likely to stay in their minds forever.
YES, it's true that humans put pressure on themselves to behave consistently with their own existing commitments.
YES, the information people see or learn about you is more powerful than what is learned later.
However.
If you google "first impressions," 1,930,000 pages come up.
If you google "ongoing impressions," 317 pages come up.
If you google "lasting impressions," 630,000 pages come up.
LESSON LEARNED: don't solely focus your service efforts on MAKING first impressions, but also, on MAINTAINING those impressions.
CAUTION: if the first few seconds are all that matters, your front line may fall victim to The First Impression Fizzle.
EXAMPLE 1: have you ever walked into a store or hotel that made a GREAT first impression in the lobby … and then, sort of gave up after that?
EXAMPLE 2: have you ever attended a club, association meeting or church service whose greeters extended a warm welcome when you walked in the door … and then never talked to you again?
EXAMPLE 3: have you ever eaten dinner at a restaurant in which your server was friendly, helpful and warm … and then, once the food came, sort of forgot about your table for the rest of the night?
That's The First Impression Fizzle.
And if you want avoid it, remember these ABC's…
1. ATTITUDE. Don't (just) focus on the first. Remember, "The Touchpoint Trinity" includes your FIRST, ONGOING and LASTING impressions. None are more important than the others.
2. BRAINSTORM. List all the possible Daily Touchpoints within each category of your Touchpoint Trinity. Examples might include "greeting," "order taking" and "handling complaints." Then, for each of the components, think of two new ways to make the mundane memorable. Remember to keep your approaches positive, friendly, fun, unexpected, and most importantly, unique.
3. CATCH. People doing it right, that is. Any time you see one of your front line employees reinforcing the customer's first impression throughout the ENTIRE service process, reward them. Consider making Touchpoint Trinity stickers, stars or slips. Hand them out throughout the day. At the end of the week, reward whichever employee has the most.
MOST IMPORTANTLY: practice these keys with consistency.
Because consistency is far better than rare moments of greatness.
LET ME ASK YA THIS…
When was the last time you experienced The First Impression Fizzle?
LET ME SUGGEST THIS…
Tell us what they could have done to prevent it.
* * * *
Scott Ginsberg
That Guy with the Nametag
www.hellomynameisscott.com

Are you the luckiest person you know?
Watch Scott's interview on 20/20!
add to del.icio.us * digg it! * email this post
You Might Also Like...
Bio
Author. Speaker. Strategist. Songwriter. Filmmaker. Inventor. Gameshow Host. World Record Holder. I also wear a nametag 24-7. Even to bed.
MEET SCOTT