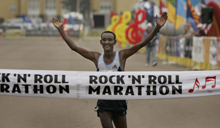 August 03, 2007 4:36 PM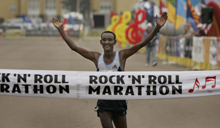 My mastermind group used to meet in a conference room at an ad agency.
The first time we held our session there, I couldn't help but notice the powerful slogan painted across the office wall:
"What finish line?"
Wow. What a concept, I thought.
Imagine a company with no finish line.
Meaning, they've never arrived.
Meaning, they're always getting better.
Meaning, they're never resting on their laurels.
No finish line. Cool!
That was a few years ago. But it wasn't until recently that I started thinking about that same idea again.
So I did some googling. And the following five quotations popped up:
1. In The Artist's Way, author Julia Cameron says, "Art is never finished. It simply stops in interesting places."
2. Leonardo da Vicni is well known for saying, "Art is never finished, only abandoned."
3. Harry S. Truman in his 1953 State of the Union Address said, "The Nation's business is never finished. New dreams must replace our old dreams; new horizons must open up; new challenges arise to test us–to test our spirit and our resolve."
4. John Maxwell once wrote, "If you think you've arrived, you're in trouble."
5. Philosopher Baltazar Gracian wrote, "Display minimal self-satisfaction."
That's the way business is supposed to be.
Neverending. Always improving. No finish line.
Kaizen, as the Japanese like to say.
So, I guess it's safe to say:
You're never finished learning.
You're never finished growing.
You're never finished thinking.
You're never finished asking questions.
You're never finished becoming a better writer.
You're never finished e-x-p-a-n-d-i-n-g your creativity.
And so on.
There is no finish line.
Just when you get there, "there" should disappear.
Because eventually, people, customers, fans and prospects are going to start wondering, "What have you done for me lately?"
And if you've been skating by on one measly past success from decades ago, resting on your laurels…
Not getting better
Not expanding or improving your expertise
Not enhancing the value you deliver
…then your customers are going to assume that you've already CROSSED the finish line.
And they're gonna hire someone else.
Someone who isn't so complacent as to think he's arrived.
So, tighten up your Nikes.
Grab a Powerbar.
And take a quick swig of Gatorade.
Because there ain't no finish line.
LET ME ASK YA THIS…
When was the last time you created new value?
LET ME SUGGEST THIS…
Post the question, "What finish line?" on several sticky notes. Post them everywhere.
* * * *
Scott Ginsberg
That Guy with the Nametag
www.hellomynameisscott.com

Are you the luckiest person you know?
Watch Scott's interview on 20/20!
add to del.icio.us * digg it! * email this post
You Might Also Like...
Bio
Author. Speaker. Strategist. Songwriter. Filmmaker. Inventor. Gameshow Host. World Record Holder. I also wear a nametag 24-7. Even to bed.
MEET SCOTT