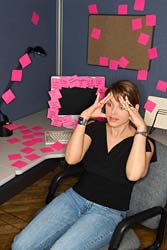 August 07, 2007 12:40 PM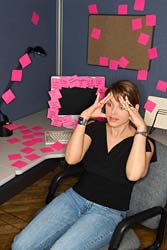 Sticky notes.
Pretty much the greatest invention ever.
Especially when you post them on your:
Wall.
Desk.
Door.
Mirror.
Fridge.
Wallet.
Pantry.
Planner.
Computer.
Dashboard.
Bulletin board.
Laundry machine.
The possibilities for self-motivation are endless!
And even if you're not a visual person, here are seven variations to become a Sticky Note Superstar!
1. Self-Assessment Questions. If you continuously ask yourself the same few questions every day, you will accomplish more, stay focused and remain motivated. That's what QREATIVITY is all about.
STICK WITH THIS: "What did you write today?" "Is what you're doing right now consistent with your #1 goal?" and "Did you make a sale today?" Check out this ebook for a few more suggestions.
2. Goals. Consider your #1 personal and #1 professional goals for 2007. Post at least ten sticky notes all around your home and office. Keep it short and simple, i.e., "Weigh 170 pounds!" or "$10,000 per month!"
STICK WITH THIS: post these two goals on the inside of your wallet, your car's dashboard, or anywhere else you might look at several times daily. Remember, the key to self-motivation is repetition.
3. Quotations. Make a list of your five favorite quotations. Keep them short, keep them simple and keep them positive.
STICK WITH THIS: bathroom mirrors are great spots for these sticky notes. This will be certain to start and end your day on a positive note. (No pun intended!)
4. Motivators. All it takes is a simple word or phrase to keep yourself motivated. Write something emotional, powerful and visual.
STICK WITH THIS: Put "Yes!" sticky notes everywhere. Also try statements like, "You rock!" and "You are succeeding right now!"
5. Reminders. If you have an important phone call to make, email to send or errand to run, write it down on a sticky note.
STICK WITH THIS: the inside of your front door is the perfect place for a last minute reminder, i.e., "Did you turn the lights off?" Also, your pantry or fridge is a great place to catch yourself slipping, i.e., "How many vegetables did you eat today?" or "Are you REALLY hungry right now?"
6. Current ideas. Creativity requires incubation. If you have a new idea, project or brainstorm that needs constant attention, post a key phrase in a visible spot. Keep your new idea in front of your face and at the top of your mind.
STICK WITH THIS: "How will you improve the Johnson Account?" or "Get more ideas for next week's staff meeting!"
7. Education. If you're expanding your vocabulary or learning a new language, sticky notes are the perfect education tool.
STICK WITH THIS: put a single word (and a brief definition) in your wallet or on your desk. If you're learning a new language, put the translations on items around your house. Great for repetition.
NOTE: these Sticky Note exercises might seem a little cheesy to you.
Just remember: cheesy doesn't mean ineffective.
ALSO NOTE: your coworkers, friends or partner might think you're a bit crazy for posting sticky notes all around the house or office.
Don't let them stop you. They're either jealous of your success or insecure about their own lack of motivation.
Ultimately, sticky note reminders like these work because:
1. They make you CLARIFY … so your goals are specific.
2. They make you WRITE … and writing is the basis of all wealth.
3. They make you VISUALIZE … what you want and how to get it.
4. They make you ACCOUNTABLE … to yourself and the people around you.
Stick with that.
LET ME ASK YA THIS…
Are you a Sticky Note Superstar?
LET ME SUGGEST THIS…
Share your #1 best use for sticky notes.
* * * *
Scott Ginsberg
That Guy with the Nametag
www.hellomynameisscott.com

Are you the luckiest person you know?
Watch Scott's interview on 20/20!
Bio
Author. Speaker. Strategist. Songwriter. Filmmaker. Inventor. Gameshow Host. World Record Holder. I also wear a nametag 24-7. Even to bed.
MEET SCOTT