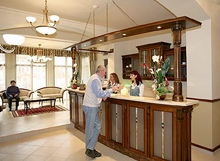 August 05, 2007 12:28 PM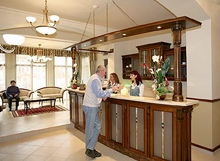 Your first impression is only 1/3 of the battle.
WHICH MEANS: simply greeting customers at the front door is NOT enough.
For that reason, always remember THE TOUCHPOINT TRINITY:
FIRST impressions. These lay a foundation for the service process. These frame the entire customer experience. They take between five and ten seconds, but last nearly forever.
ONGOING impressions. These either reinforce or diminish customers' initial judgments. Throughout the entire service process, they cause customers to either (keep) checking you on, or check you off.
LASTING impressions. These create farewell feelings that stay with customers until their next visit. They cause them to: 1) tell nobody, 2) tell a few people, or 3) tell EVERYBODY … about their service experience (good OR bad.)
So, how do you achieve success all throughout the Touchpoint Trinity?
ONE WORD OF ADVICE: consistency.
"Consistency is far better than rare moments of greatness," as my company motto states.
THAT is the key to Approachable Service. And it's the result of focusing your efforts on all three components of The Touchpoint Trinity.
Therefore:
If you want to create FANS, (not just customers)…
Whose experiences are UNFORGETTABLE, (not just memorable)…
So they become INSISTENT, (not just satisfied or loyal)…
Sit down with your team and conduct the following exercise:
1. Organize. Divide a sheet of blank paper into three columns. From left to right, title them "First, "Ongoing" and "Last."
2. Brainstorm. List all the possible Daily Touchpoints within each category. Examples might include "greeting," "order taking," "handling complaints," "checking out," "paying the bill," and "final words as customers exit." (You'll probably have around 10-20 touchpoints in all.)
3. Imagine. Now, multiply the total number of Daily Touchpoints by your total number of employees. Then multiply that number by 250. The final result is your Annual Touchpoint Total. (This will help you understand the volume of your accumulated actions!)
4. Accentuate. For each of the components in your Touchpoint Trinity, think of two new ways to make the mundane memorable. Brainstorm techniques, Phrases That Payses, ideas, procedures and fun ways to approach your customers in every possible situation. Remember to keep your approaches positive, friendly, fun, unexpected, and most importantly, unique.
5. Brand. The last step is to formally brand your service. For example, take Disney, Ritz Carlton and FedEx. Each of these companies' unique approach to service is SO good that other companies steal it!
Who's stealing YOUR service philosophy?
If the answer is "Nobody … yet," then this is your chance!
Create Service Philosophy Cards explaining your unique approach to all areas of your Touchpoint Trinity. Print 500 of them for every employee! Staple one to every receipt! Scatter them about your office, hotel or property. Over time, your philosophy will spread.
And with these exercises, you will be able to maintain consistency in your first, ongoing AND lasting impressions.
AND REMEMBER: if you can understand, improve and consistently brand your company's Touch Point Trinity…
Customers won't (just) be satisfied.
Customers won't (just) be loyal.
They'll be insistent.
LET ME ASK YA THIS…
Who is stealing YOUR service philosophy?
LET ME SUGGEST THIS…
In addition to satisfaction and loyalty, remember to focus on insistence.
* * * *
Scott Ginsberg
That Guy with the Nametag
www.hellomynameisscott.com

Are you the luckiest person you know?
Watch Scott's interview on 20/20!
add to del.icio.us * digg it! * email this post
You Might Also Like...
Bio
Author. Speaker. Strategist. Songwriter. Filmmaker. Inventor. Gameshow Host. World Record Holder. I also wear a nametag 24-7. Even to bed.
MEET SCOTT