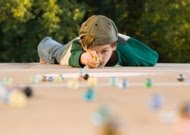 September 07, 2011 4:15 PM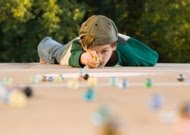 You've chosen an uncertain path.
You've adopted an inconvenient lifestyle.
You've embarked upon an unconventional journey.
You've felt the voice inside you growing more urgent.
You've committed yourself enough so you can't turn back.
IN SHORT: You've decided to play for keeps.
This is the critical crossroads – the emotional turning point – in the life of every young artist.
I've been there myself, and here's a list of suggestions to help you along the way:1. Feeling is the agent of fame. At a recent panel discussion, filmmaker and podcaster Kevin Smith put it perfectly:
"People will value you in this life if you can think or feel something for them they can't express for themselves. If you can deliver something people can't find on their own, they will be willing to support you because they identify with you. Feel everything. That's your superpower. Never deaden your empathy."
That's the cool part about being an artist: You can always rely on your own feelings as a valuable source of raw material. Next time you encounter a feeling you're afraid to have, sit with it. Make friends with it. And exploit it in the service of your audience. By expressing the feelings that are yours and yours alone, people will recognize them as their own too. What feelings are you famous for having?
2. Heighten your consciousness. I've practiced meditation every day of life since I was twenty-two. It keeps me sane, keeps me creative and keeps me connected to the divine. And while I'm no expert on the topic, here's what I've learned: First of all, meditation is cheaper than worry. I'd rather create a mental pause than waste my imagination sweating over something I don't even care about.
Secondly, meditation isn't a technique. It's not something you accomplish – it's something you practice. And lastly, the goal of meditation isn't to get more ideas – the goal is to make the container bigger. That way, ideas are more likely to fall. If you're never explored some kind of meditation practice, start today. You will never be the same. Your art will never be the same. When was the last time you sat quietly and engaged with your higher self?
3. You are what you charge. Harlan Ellison has written over one thousand short stories, novellas, screenplays, teleplays and essays. In a recent television interview, he shared the following insight:
"The only value for me is if you put money in my hand. You better cross my palm with silver, because I'm supposed to be paid every time I do something. Sure, I'll sell my soul, but only at the highest rate. Because I don't take a piss without getting paid."
When it comes to pricing, share it publicly. Set a precedent of value. When it comes to charging, state your fee confidently – then shut up. He, who talks next, loses. And when it comes to collecting, never feel guilty about asking for your money. If you delivered the work, you deserve the cheese. Who are you still afraid to send an invoice to?
4. Don't find inspiration – beguile it. With the right lens, the right posture and the right filter, inspiration will seek you out. All you have to install new awareness plans. I learned about this process from obscure book on creativity called Playful Perception, by Herbert Leff. He defines an "awareness plan" as a procedure or mental recipe for perceiving and thinking about the world around us.
Here are my favorite examples: Contemplate special contributions each thing makes to life. Envision what's going on inside everything you notice. Regard whatever you're doing as a game. See things as events and not objects frozen in a moment of time. And view everyday things as if they were art exhibits. By changing the way you experience the world, you position yourself to receive a never-ending flow inspiration. Are you waiting for the rain or turning yourself into a lightning rod?
5. Juggle multiple threads of work simultaneously. The best thing my mentor taught me was to think modular. To create in chunks. To work on several projects at once. And to shift between them as circumstances dictate. That's why I'm always writing five books at once. Not because I'm unfocused – but because I'm creating thought bridges, subconscious connections and unexpected integrations between seemingly unrelated ideas.
Yes, it requires self-control. Yes, it requires belief in your own capabilities to organize and execute. But as I learned from Realizing the Impossible, "The best artists have shit on their shoes. They're running around in the middle of everything, they can't settle down, they can't shut up and they can't quit fidgeting with everything."
Cartoonist Hugh Macleod calls this way of life crofting. Someone who never does just one thing. Lots of balls in the air. Lots of different directions. Never waking up and doing the exact same thing each day. Not always the highest paying, but fun and rewarding as hell. How many plates are you willing to spin?
6. Art without point of view, isn't. Your art needs to do something beside decorate a wall. As an artist, your job is to declare a different way to think about living. As an artist, your purpose is to reorganize the world in ways that are more just. As an artist, your obligation is to express what you feel strongest about. And as an artist, your goal is to signify the spirit of the times by telling stories of the voiceless.
Otherwise you're just a fad with legs. In the words of legendary film composer and music producer, Hans Zimmer: "A good score should have a point of view all of its own. It should transcend all that has gone before; stand on its own two feet and still serve the movie. A great soundtrack is all about communicating with the audience, but we all try to bring something extra to the movie that is not entirely evident on screen." How will you avoid the inevitable downward spiral to commodity?
REMEMBER: When you're ready to play for keeps, your work will never be the same.
Make the decision today.
Show the world that your art isn't just another expensive hobby.
LET ME ASK YA THIS…
Have you committed with both feet yet?
LET ME SUGGEST THIS…
For the list called, "52 Random Insights to Grow Your Business," send an email to me, and you win the list for free!
* * * *
Scott Ginsberg
That Guy with the Nametag
Author, Speaker, Publisher, Artist, Mentor
scott@hellomynameisscott.com
Never the same speech twice.
Now booking for 2011-2012!
Watch The Nametag Guy in action here!
Bio
Author. Speaker. Strategist. Songwriter. Filmmaker. Inventor. Gameshow Host. World Record Holder. I also wear a nametag 24-7. Even to bed.
MEET SCOTT