February 08, 2008 12:05 PM

Email addresses are VERY telling.
About your personality.
About your creativity and uniqueness.
About your professionalism (or lack thereof).
What's more, email addresses elicit certain emotions when people first see them.
Let's look at a few examples.
NOTE: None of these emails are actually real (to my knowledge). I just made them up. However, if any of them ARE real, I don't mean to offend anybody. My apologies to Kayla.
1. info@yourwebsite.com
POTENTIAL SILENT DIALOGUES:
o "He'll never write me back!"
o "Great. Does this email even go to a real person?"
o "Well, so much for getting my problem answered quickly!"
2. kaylasmommy@aol.com
POTENTIAL SILENT DIALOGUES:
o "Who still uses AOL?"
o "Who the heeck is Kayla?"
o "I bet SHE works from home…"
3. steveandmaryjackson@gmail.com
POTENTIAL SILENT DIALOGUES:
o "Wait, are two people going to read this email I'm about to send?"
o "Why can't Steve and Mary get separate email addresses?"
o "Will the privacy of my letter be violated?"
4. isellcars2U@yahoo.com
POTENTIAL SILENT DIALOGUES:
o "Do I really want to do business with someone who has an email like this?"
o "Can't this guy get a company email, or does he just sell junk cars from his back yard?"
5. Dave783@hotmail.com
POTENTIAL SILENT DIALOGUES:
o "What does 783 mean?"
o "Is Dave so lazy and uncreative that he needed Hotmail to create his email address FOR him? And is that the kind of person I want to do business with?"
o "Who still uses Hotmail?"
6. m_876#8815_gratzy8@gg.com
POTENTIAL SILENT DIALOGUES:
o "Is this spam?"
o "Is this even a real email address?"
o "Whose email is this?"
7. super_creative_artist@sbglobal.net
POTENTIAL SILENT DIALOGUES:
o "If this lady was such a 'killer' artist, wouldn't she have her own website, and not have to use SBC?"
o "Kind of an uncreative email address for a 'super creative artist,' huh?"
o "Wait, what was her actual name again?"
– – –
Look folks.
Email addresses don't need to be works of art.
But at the same time, they don't need to be boring.
So, evaluate the perception of yours. Ask yourself how professional, accurate and unique your email address REALLY is, and what the first impression is when someone sees it for the first time.
LET ME ASK YA THIS…
What does your email say about YOU?
LET ME SUGGEST THIS…
Post a list right here called, "Types of Email Addresses that Really Annoy Me," along with the PSD's (Potential Silent Dialogues) that accompany each one.
* * * *
Scott Ginsberg
That Guy with the Nametag
scott@hellomynameisscott.com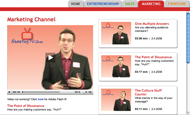 Do you have MARKET share or MIND share?
Tune in to The Marketing Channel on NametagTV.com for video lessons on creating unforgettable brands that magnetize more business!
Bio
Author. Speaker. Strategist. Songwriter. Filmmaker. Inventor. Gameshow Host. World Record Holder. I also wear a nametag 24-7. Even to bed.
MEET SCOTT