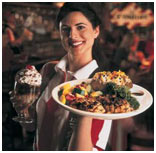 January 11, 2007 5:23 PM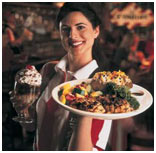 Typical O'Hare. Always causing delays in other cities.
Since my flight was delayed 2 hours last night, I stopped by TGI Friday's in DFW before returning to St. Louis.
My server threw down a coaster, introduced herself as Erin and asked, "So Scott, how much time do you have before takeoff?"
"Oh, uh…plenty. I'm on a 2 hour delay."
"Cool, then I'll start you off with a drink. What'll you have?"
"Diet Coke."
"Right away!" she said.
NOTICE: Erin didn't say, "How are you?" "How's it going?" or "Welcome to TGI Friday's."
She said, "How much time do you have?"
I couldn't help but chuckle.
What a line.
What a great approach.
What a way to get a huge tip!
Here is yet another minor incident with MAJOR lessons:
1. Ask smart questions. First words make (or break) first impressions.
2. Know your customer. Identify & satisfy their needs as soon as possible.
3. O'Hare sucks.
LET ME ASK YA THIS…
How unforgettable are your first words?
LET ME SUGGEST THIS…
Post your best "first words" story here!
* * * *
Scott Ginsberg
Author/Speaker/That Guy with the Nametag
www.hellomynameisscott.com
Bio
Author. Speaker. Strategist. Songwriter. Filmmaker. Inventor. Gameshow Host. World Record Holder. I also wear a nametag 24-7. Even to bed.
MEET SCOTT