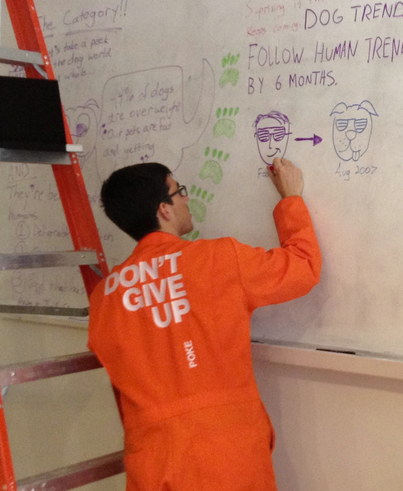 August 18, 2013 5:08 PM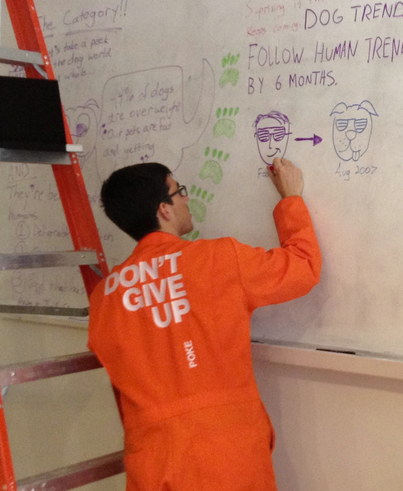 HELLO, my name is Scott!
But I'm not here to talk about me. Today I want to introduce you to my friend and colleague, Johnny Sciortino.
For the last three months, Johnny has been a Creative Strategy intern at POKE New York. He and I were desk buddies and worked closely on several projects. Sadly, his stint at our company is coming to a close.
Which means your company has an opportunity hire him.
And I'll give you three reasons why:
1. Johnny is a brilliant communicator. The man writes with the precision and eloquence of a professor. The man speaks with the charisma and comedy of a performer. The man argues with the lucidity of a trial lawyer. Most of today's colleges graduates don't even know how to talk to people with their mouths. Case and point:
2. Johnny is a actual gentlemen. That's a rare breed these days. Especially in a big city. Somebody who acts with manners, class and maturity. That's Johnny. His trademark bow tie isn't just a style, it's a symbol of a value system. And it needs to infect your company.
3. Johnny is a worker. I've heard rumors about this generation of young professionals. Supposedly they're entitled, lazy and unempathetic. Not Johnny. He's the first person in the office every day. Except that one week he broke his toilet. But we gave him a pass on that one. Shit happens.
We're going to miss Johnny. His presence, his personality and his brain.
But your company doesn't have to.
Get in touch with him here, here and here.
And if you have any questions about his work at POKE, email me anytime.
Bio
Author. Speaker. Strategist. Songwriter. Filmmaker. Inventor. Gameshow Host. World Record Holder. I also wear a nametag 24-7. Even to bed.
MEET SCOTT