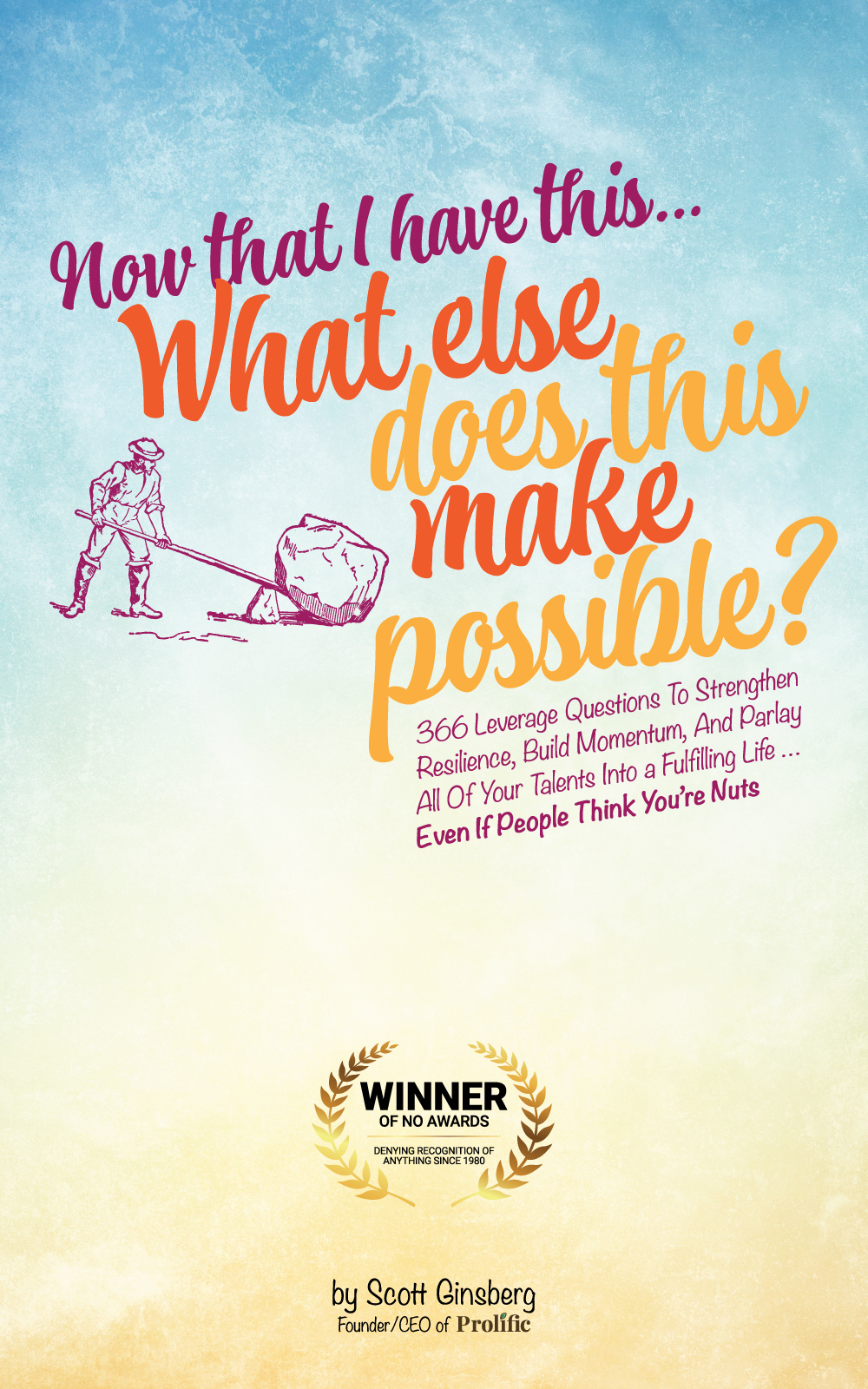 March 02, 2021 4:48 PM
I've wanted to write this book since 2005. Pumped to have it finished!
You can buy it here: https://amzn.to/3dZ6ay2.
And if you're curious how the hell I managed to put out (yet another) dang book, check out getprolific.io!
Here's the synopsis:
# # #
Now That I Have This, What Else Does This Make Possible? offers ambitious entrepreneurs and creative professionals, or anyone who thinks like one, a much needed framework to parlay all their talents into a more fulfilling life. This book is packed with thought- provoking questions that will fundamentally transform the way you think about one life-changing concept: leverage.
Open to any random page and you'll discover a leverage question, paired with an inspiring meditation from Scott Ginsberg, aka, the guy who made a career out of wearing a nametag every day. Delivered in the digestible, devotional format, each chapter draws from Scott's twenty years of building sticky brands for himself, his clients and his employers.
Inside, you will learn leverage questions to help you…
• Begin tasks from a baseline of excitement and momentum
• Reframe mundane work so it taps into your strengths
• Create value when the rest of the world is freaking out
• Reinvent yourself creatively and confidently during career transitions
• Integrate and deploy all of your skills to give yourself a competitive edge
And, you'll learn leverage questions to help your team…
• Collaborate more seamlessly with one another
• Overcome cynical people and attitudes that gridlock execution
• Remove potential friction points and bottlenecks in any project
• Keep schedule with projects that have many moving parts
• Eliminate the need to generate energy from scratch each time you sit down to work
Now That I Have This, What Else Does This Make Possible? is written for any professional seeking to make the most out of their unique talents, this book is a practical and inspiring handbook that will spark your brain profitably. Asking these questions over the course of a year (and, indeed, for years to come) you'll unlock the creativity, resilience and motivation to make your work stick. Even if people think you're nuts.
You can buy it here: https://amzn.to/3dZ6ay2.
Bio
Author. Speaker. Strategist. Songwriter. Filmmaker. Inventor. Gameshow Host. World Record Holder. I also wear a nametag 24-7. Even to bed.
MEET SCOTT