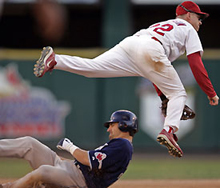 April 02, 2007 1:56 PM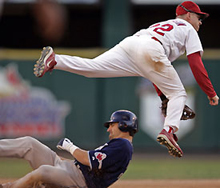 So the Cardinals' opening day was yesterday.
(They lost 6-1 to the Mets. Dang it. Guess New York wanted payback from last year.)
Anyway, I had a thought.
Here's why I love David Eckstein:
Because every grounder matters.
Because he gives it his all, every time.
Because he plays harder than anybody.
Because he actually sprints on and off the field, every inning.
(Maybe that's why he won the MVP last year)
But you get this feeling that if you randomly saw Eckstein one day (like, ordering a bagel or something), and you asked him, "Hey Dave, in all the years of playing ball, which game was your best?"
Eckstein would probably say, "My last one."
LESSON LEARNED: Make your best one your last one.
The best sales call you ever made…was your last one.
The best speech you ever gave…was your last one.
The best report you ever handed in…was your last one.
The best meeting you ever had with your staff…was your last one.
The best customer service phone call…was your last one.
You get the point.
Make your best one your last one.
Thanks, Eck.
LET ME ASK YA THIS…
Who's your favorite ball player?
LET ME SUGGEST THIS…
Post the lesson(s) we can learn from him/her right here!
* * * *
Scott Ginsberg
Author/Speaker/That Guy with the Nametag
www.hellomynameisscott.com
add to del.icio.us * digg it! * email this post
You Might Also Like...
Bio
Author. Speaker. Strategist. Songwriter. Filmmaker. Inventor. Gameshow Host. World Record Holder. I also wear a nametag 24-7. Even to bed.
MEET SCOTT