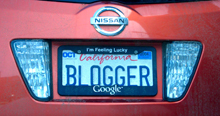 April 03, 2007 1:59 PM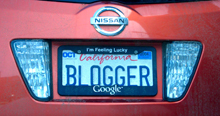 I don't claim to be an expert on blogging.
I have, however, managed to leverage my blog over the years as a powerful tool for:
Delivering value. Earning new business. Generating (a lot of) word of mouth.
Therefore, today I'm going to take you through my daily process of writing blog posts.
NOTE: this is NOT the only, the best or the preferred way to blog.
It's just how I roll. And since 2004, I've had great success with it. Enjoy!
Anatomy of an Awesome Blog Post
1. THE HEADLINE
Think of every single blog post you write as a press release. Make your headline pithy, catchy, (possibly) short, funny, interesting, intriguing, eye-catching, etc. If possible, use words that are "hot," according to current events, Technorati and other search engine resources.
REMEMBER: Your headline might be the only part of your blog post people read before deciding to click the link.
FOR EXAMPLE:


2. THE IMAGE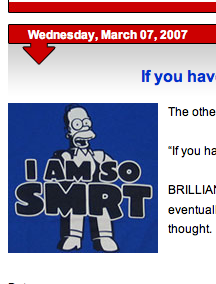 Amazingly, a large percentage of bloggers DON'T include images for each post. (Not smart.) You don't have to overdo it, but remember that we live in a visual culture. People want to LOOK, not read. Plus, images reinforce your writing.
Think of your blog post like a newspaper, or any publication for that matter. You're creating art with every post!
TYPES OF PICTURES: if possible, try to use your own pictures. Especially ones with YOU in them. (People need to see you being you; and they need to see you doing what you do.)
However, there's a myriad of appropriate (even funny, like Homer over there) pictures out on the Web. Search around.
REMEMBER: pictures are more approachable than words. Make it easy on the readers' eyes.
3. THE BODY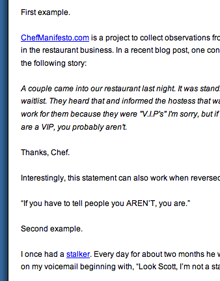 Most posts would benefit from having at least one link. To a relevant article, to another blog, to a friend of yours (aka, Link Love), whatever. Links build community.
ALSO: blogs weren't meant to be prose. So…
Break
up
your
writing.
Use short sentences. People read them more. And people like them more. Period.
DON'T FORGET: use line breaks, bold, ALL CAPS, underlined words and italics.
4. THE CTA


Which stands for "call to action."
Tell your readers to do something. To submit something. To link something. To try something.
Whatever you do, get them involved. Again, blogging is about community. You must elicit response from your readers in the form of comments, email responses, link love, etc.
REMEMBER: A blog post without a call to action is just a wasted URL.
I always close my post with the above two questions. They encourage an open dialogue help increase my link rate.
NOTE: when you do this, your "call to action phrases" will become part of your brand. For example, I wrote ebooks called LET ME ASK YA THIS… and LET ME SUGGEST THIS…
5. THE SIGNATURE


This is huge.
You need to conclude your blog post by reminding the reader who you are.
BUT BEWARE…of "selling" too much in this section. Don't let the reader get to the end of your awesome post and say, "Oh, so NOW he wants me to hire him. Yeah right."
Just include a few basic pieces of info about who you are. Don't make your signature an entire one page sell sheet.
6. THE VIRAL STUFF


OK. The reader knows who you are. You've delivered value. You've created a new fan via your awesome blog post.
Congrats!
But wait. There's one last thing you need to do:
MAKE IT SUPER EASY FOR THE READER TO TELL EVERYONE ELSE HOW AWESOME YOUR BLOG POST IS
I use digg, del.icio.us, and "email this post to a friend."
There are many other social bookmarking options out there, but these are the ones I use.
NOTE: many bloggers also insert tags, key words, categories, search terms, etc., at the end of the post. GREAT IDEA. I personally don't use those things, but I hear they're great tools.
FINAL NOTE: again folks, this is just how I post. It's NOT the only way! For that reason…
LET ME ASK YA THIS…
What's your method for creating an AWESOME post?
LET ME SUGGEST THIS…
Share your anatomy lesson here!
* * * *
Scott Ginsberg
Author/Speaker/That Guy with the Nametag
www.hellomynameisscott.com
add to del.icio.us * digg it! * email this post
You Might Also Like...
Bio
Author. Speaker. Strategist. Songwriter. Filmmaker. Inventor. Gameshow Host. World Record Holder. I also wear a nametag 24-7. Even to bed.
MEET SCOTT