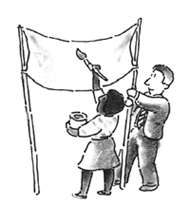 January 14, 2008 1:24 PM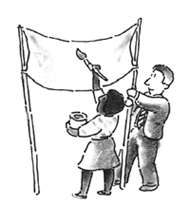 One of the primary tasks of Growing Bigger Ears is to guide the conversation into focus.
To help the speaker clarify what type of conversation she wants to have with you.
You do this for three reasons:
FIRST, clarify to … open up the space.
People need to feel free and relaxed in your presence. So, by first negotiating the space between you, you make it safe to share. This builds a foundation of comfort and approachability that endures throughout the entire encounter.
SECOND, clarify to … to set expectations.
Without an initial understanding of your conversational objectives, you'll never know whether or not you and your partner were successful. So, think of this practice as sort of a mini-goal for creating a harmonious climate.
THIRD, clarify to … establish boundaries.
Listening is a process of suspending your own agenda in the service of the speaker. So, when you know what your respective roles are – and what areas are off limits – you prevent yourself AND the speaker from wasting emotional energy.
OK! Now that you understand the value of clarifying, let's explore five questions you can pose to help the speaker guide the conversation into focus:
1. What needs to happen during this conversation for you to feel that it was successful?
2. What type of conversation do you want this to become?
3. Do you want me to suggest ideas or just listen?
4. Is this a dialogue or a discussion?
5. How would you like me to listen to you?
CAUTION: be sure to pause for at least three seconds after every question AND answer. Let the pearl sink.
REMEMBER: when you clarify the conversation by asking future-focused, positive questions, you not only open up the space, set expectations and establish boundaries; but you also demonstrate your willingness to move forward together.
And that's what approachability is all about.
LET ME ASK YA THIS…
When you're The Listener, what questions do you ask yourself?
LET ME SUGGEST THIS…
Share your best two questions here!
* * * *
Scott Ginsberg
That Guy with the Nametag
scott@hellomynameisscott.com
…only 21 more days until NametagTV.com goes ON AIR!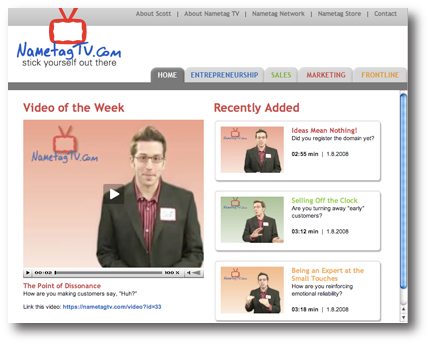 You Might Also Like...
Bio
Author. Speaker. Strategist. Songwriter. Filmmaker. Inventor. Gameshow Host. World Record Holder. I also wear a nametag 24-7. Even to bed.
MEET SCOTT