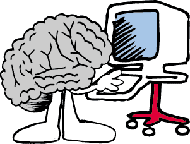 January 29, 2008 11:55 AM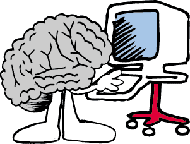 OK, so, you want to be more creative.
You want to become a Thought Leader.
And you want to make REAL changes in the world.
Right?
Cool! You sound like my kinda guy. (Or gal.)
So, here's the plan. Because before you start changing the world, there's something you need to do first:
Prime your brain.
See, the word "prime" actually means just that: FIRST.
As in, "The First Step of Creativity."
SO, THAT'S THE SECRET: Before you start concocting the next great business idea, your first move is to motivate your melon.
Here's a list of seven practices to help you prime your brain so new ideas will start flowing like water!
1. Maintain an expectant frame of mind. Before sleeping, exercising, brainstorming or any other extended periods of heightened creativity, first take a few minutes to invoke The Muse. Focus your thoughts and expectations on receiving insight. Try affirmations like:
o "I am creative."
o "I have many ideas."
o "I am a brilliant artist."
o "I am willing to create."
o "I love to play with everything."
o "I am flourishing with creativity."
o "I am confident in my creative work."
o "I am a receiver for creative inspiration."
o "I have a constant flow of interesting and creative ideas."
2. Make space in your own mind. For something to enter, your mind must first be empty. So, here are four ways to take a Mental Dump:
o Morning Pages: This stream of consciousness method of journaling is life changing AND life clarifying. Learn how to do them here.
o Exercise: Every single day for at least 20 minutes straight. See, with every bead of sweat you release, more space in your mind is also created. Learn more about solvitas perambulatorum here.
o Walking: Now, although you (could) put this under the category of exercise, taking regular walks – even if it's just around the block – is a form of moving mediation. It clears your mind and fills your body with fresh oxygen. Plus it's fun.
o Meditation: No, you don't have to levitate. You just have to relax. In fact, the word "meditate" comes from the Latin meditatus, which means, "to contemplate." So, whether it's TM, focused breathing or your Daily Appointment with Yourself, this practice will be the most effective way for making space in your own mind.
3. Operate on multiple planes of consciousness. Prior to engaging in any activity – whether it's reading, writing or attending a seminar – consider the various lenses through which you could view that activity. Let experiences change you. This will make your mind actively prepared to observe what your eyes see.
For example, let's say you were reading a book. Consider reading with these three types of eyes:
o Superficial Eyes: You don't need to read every word. You don't need to listen to every line. You don't need to understand every concept. Just get the key ideas. Figure out the ONE thing you're supposed to be learning. And when you're done, think (and rethink) about how it applies to your life.
o Academic Eyes: Observe other people's styles, vocabularies and voices. Then, think about your own writing style. Pick out little things and trends you noticed from other creative people and adapt them to your own work. (Notice I said, "adapt," not "steal.")
o Creative Eyes: Highlight or underline a key passage. Put the book down. Make a list of all the reasons, examples, ideas and stories that come to mind when you apply that idea to your own life. Save that document in its own folder. Come back to it later and expand on what you read.
4. Perpetually hunt for insight. Inspiration is ENDLESS and EVERYWHERE. Anyone who ever claims, "I can't find any good ideas!" is either lazy, stupid or not looking very hard. So, the secret is to maintain an attitude of curiosity, exploration and expectation … in everything you do. To be constantly scanning.
So, when you're hunting for insight, ask yourself Filtering Questions like:
o Isn't that interesting?
o What else is like this?
o What does this have to do with me?
o What's the Universal Human Emotion?
o How are these issues related to each other?
o How does this have to do with my expertise?
o How could I use this as an example in my work?
o What did you (just) learn from this experience?
o How is this a symbol or example of my expertise?
o How does this fit into my picture of the universe?
o What's the key idea here, regardless of the context?
5. Write it down! If you've read this blog before, you probably know my philosophy on this topic: Writing is the basis of all wealth. And if you don't write it down, it never happened. So, when it comes to priming your brain, writing is your BEST friend.
See, The Page clarifies, organizes, and best of all, it doesn't judge you. It just listens. So, if you have a big meeting, conference call or discussion coming up, consider taking fifteen minutes the MORNING OF to write out your thoughts. Voice complaints, ideas and annoyances, even "things NOT to say."
Oh, and remember to make lots of lists, kind of like this.
6. Soften your eyes. This is more than just a practice; it's a philosophy. And it's not just physical, it's mental and spiritual as well.
See, if you want to prime your brain, you need to slow down and notice the novelties of life. To studying ordinary things intently. To make the mundane memorable and be mindful of your surroundings. Here's how to soften your eyes:
o You OPEN your mind. This means your optical guard lets down. Which means you're less likely to neglect key opportunities. Which means you're more willing to accept multiple perspectives. Which enables you to have more creative thoughts.
o You OBSERVE patterns quickly and frequently. This enables you to make connections between seemingly unrelated things. Which enables you to notice things and give them names. Which enables you to have more creative thoughts.
o You ORGANIZE your thoughts with ease and comfort. This helps you filter them through your personal theory of the universe. Which makes them YOUR unique ideas and theories. Which makes them easier to spread.
7. Become a Suspender. Suspend your self. Suspend your agenda. Suspend your preconceptions. Suspend your preoccupation. Suspend your views.
See, when you are willing to watch things in a detached way, you actually see MORE by striving LESS. If you're also willing to learn something new (and NOT be obsessed with what you already know) there's no limit to the amount of ideas your brain might attract!
So, strive to maintain openness to possible thoughts outside of what you already have. Become a suspender.
– – –
REMEMBER: You make a living off your ideas. They are the ancestors of your success.
So, if you want to become a creative powerhouse, a recognized Thought Leader and an agent of REAL change in the world, start by motivating your melon!
LET ME ASK YA THIS…
How do you prime your brain?
LET ME SUGGEST THIS…
For a list called "49 Ways to become an Idea Powerhouse," send an email to scott@hellomynameisscott.com with "Idea Powerhouse" in the subject line, and I'll send you the list for free!
* * * *
Scott Ginsberg
That Guy with the Nametag
scott@hellomynameisscott.com
…only 7 more days until NametagTV.com goes ON AIR!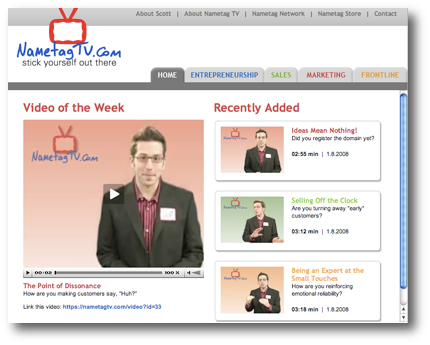 Bio
Author. Speaker. Strategist. Songwriter. Filmmaker. Inventor. Gameshow Host. World Record Holder. I also wear a nametag 24-7. Even to bed.
MEET SCOTT