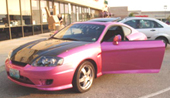 December 07, 2006 1:32 PM
A is for ATTITUDE
B is for BREAK PATTERNS
C is for CONSISTENCY
D is for DISCIPLINE
E is for EVOLUTION
F is for FRIENDLINESS
G is for GOOD WITH NAMES
H is for HAPPINESS
I is for IDEAS
J is for JOY
K is for KNOWLEDGE
L is for LAUGHTER
M is for MUNDANE
N is for NAMETAGS
O is for OFF BUTTON
P is for PAINT YOURSELF INTO A (GOOD) CORNER
A while back someone from my audience asked, "But if you wear a nametag all the time, that means you have to, like, be nice to everyone!"
Well, technically, yes. But is that such a bad thing?
See, today is day 2,227. That's like, seven years! And lately, I've been thinking a lot about the idea of "Painting Yourself into a (Good) Corner."
According to the Cambridge International Dictionary of Idioms, to "paint yourself into a corner," means the following:
• To do something which puts you in a very difficult situation and limits the way that you can act
• To do something that takes away all of your choices
As you can see, this idiom is usually expressed in a negative light.
But does it have to be? Is painting yourself into a corner always bad?
I say no. And let me give you a few examples…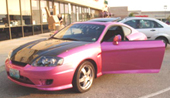 My girlfriend drives a pink car. It's pretty much the sweetest ride you'll see on the road.
Anyway, Jackie tells me that since she repainted her Tib, she's actually become a better, more responsible driver.
"Well, yeah," Jackie explained, "If I cut someone off, they'll shake their fist at me and say, 'Damn that girl in the pink car!'"
So, she's painted herself into a good corner. And Lord knows we could always use more responsible drivers out there!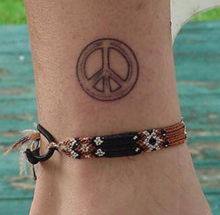 Tattoos are another great example.
Let's say someone gets a peace sign inked across his ankle.
Don't you think he'd be less likely to walk around getting into bar fights?
(FYI, if you haven't had the chance to see the greatest tattoo in the world, brace yourself and look here.)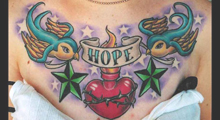 Another example: what if someone gets the word "hope" tattooed across her chest? Think she'd slump around all day with woe-is-me posture and depressed eyes?
Not likely. Or at least, not AS likely.
See, if you tattoo something on your body, that baby is for-ever. Plus, you wouldn't have gotten inked unless you were: a) seriously committed to the message behind the ink, or b) really, really drunk one night in college.
And so, a tattoo paints someone into a good corner because if that person acts in a manner inconsistent with the message behind the tattoo, either he (or someone who sees the tattoo) will question his integrity.
Therefore, the solution to all of the world's problems is simple: everyone should wear nametags and get tattoos.
Just kidding.
But methinks this IS a step in the right direction.
So, if our society wants to achieve higher levels of personal accountability, integrity, authenticity, blah blah blah, it would be wise for each person to find his or her own way of painting themselves into a good corner.
Now if you'll excuse me, there's a pink car waiting outside to take me to breakfast.
LET ME ASK YA THIS…
How do you paint yourself into a good corner?
* * * *
Scott Ginsberg
Author/Speaker/That Guy with the Nametag
www.hellomynameisscott.com
Bio
Author. Speaker. Strategist. Songwriter. Filmmaker. Inventor. Gameshow Host. World Record Holder. I also wear a nametag 24-7. Even to bed.
MEET SCOTT