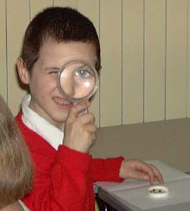 November 27, 2007 1:46 PM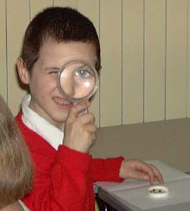 All creativity begins with curiosity.
About how things work.
About how things could work BETTER.
About why things are the way they are.
About why people do things they way they do.
But don't MY word for it. Let's hear what three of the world's most notable creativity gurus had to say about the value of curiosity…
1. Leonardo Davinci. He called it curiosita, defined as, "An insatiably curious approach to life and an unrelenting quest for continuous learning."
"The noblest pleasure is the joy of understanding," Davinci remarked. "Therefore, be always curious and observant."
2. Edward DeBono. He encourages people to embrace curiosity by constantly saying, "Now that's interesting…"
"Be able to find interest in almost anything," DeBono says in How to Have a Beautiful Mind. "Be curious. Explore things. Bring up a discussion. Get people's opinions, ideas and values. Explore, elaborate and make connections."
3. Mihály Csíkszentmihályi. He reminds us to fascinate ourselves with the ordinary.
"Evaluate critically every novelty you encounter," he wrote in his book Creativity. "One of the surest ways to enrich life is to make experiences less fleeting."
LESSON LEARNED: study ordinary things intently.
When you can learn to do this – every single day – three things will happen:
You will BOOST your creativity.
You will FLOOD your mind with new ideas.
You will BUILD a solid foundation of curiosity.
And the combination of those three results will mold your melon into an attractive, valuable commodity that your clients will want to access to.
See, clients don't want to hire consultants or marketers or coaches – they want to hire cool, smart people who happen to do those things.
So, if you want to use curiosity to attract more ideas (and more clients!), follow this four-step game plan:
1. NOTICE. On a daily basis, take the time to stop what you're doing and say things like, "Huh. That's weird," or "Now that's interesting…"
2. EXPLORE. Study ordinary things intently. Then, start a dialogue. Ask other people questions like, "So, why do you think she said that?" "Hey, did you guys notice that?" and "It would be interesting to see if…"
3. RECORD. Remember, if you don't write it down, it never happened! So, consider keeping a Curiosity Journal. Make daily entries about things you noticed and what you learned from them.
4. EXPAND. Continue to learn, ask and research these new ideas you're curious about. Constantly run them through your personal filter of expertise by asking, "How does this fit into my picture of the universe?"
With these four steps, your curiosity will become a weapon!
Both for you AND the customers you serve.
Now … isn't that interesting?
LET ME ASK YA THIS…
What ordinary thing have you recently studied intently?
LET ME SUGGEST THIS…
Share your observations here!
* * * *
Scott Ginsberg
That Guy with the Nametag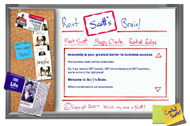 Enjoy this post?
If so, perhaps I could help on a more personal, one-on-one basis.
Rent Scott's Brain today!
---
Bio
Author. Speaker. Strategist. Songwriter. Filmmaker. Inventor. Gameshow Host. World Record Holder. I also wear a nametag 24-7. Even to bed.
MEET SCOTT