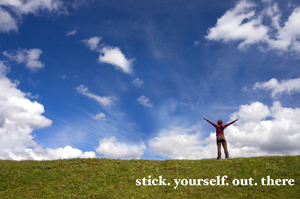 November 13, 2007 1:49 PM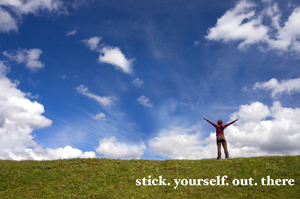 If you build it, they (might) come.
For that reason, you MUST stick yourself out there.
In three ways:
1. STICK YOURSELF OUT THERE … IN PERSON.
YOUR GOAL: to expand your comfort zone.
In the hallways. In the elevators. In your conversations. At networking events. At conferences. During meetings.
Be willing to do something crazy.
To break people's patterns.
To violate their expectations.
To be unexpected and unforgettable.
To walk into a room and attract (not seek) attention.
EXAMPLES: your 10-second commercial, your company name, your greetings and your goodbyes.
2. STICK YOURSELF OUT THERE … ON THE WEB.
YOUR GOAL: to expand your web presence.
With blogs. With websites. With videos. With pictures. With articles. With Social Networking.
After all, if you don't exist on the Internet, you don't exist.
So, make sure you're Googleicious.
And easy to find.
And perceived as THE (not "a") expert.
EXAMPLES: start a blog, publish an ezine, post pictures of you "doing what you do" on Flickr and get a MySpace and Facebook page.
3. STICK YOURSELF OUT THERE … TO THE WORLD.
YOUR GOAL: to expand your opportunities.
To get help. To get better. To get new customers. To get connected to the right people. To get sponsors, champions and mentors.
Fortunately, the universe is responsive and participative.
It is ready at all times to guide and mentor us.
Ask, believe, (work your ass off) and you shall receive.
EXAMPLES: share your goals with others, define your perfect customer and share that with people who can refer you, continually ask, pray and EXPECT the world will deliver your requests.
Stick yourself out there.
CAUTION: when practicing this philosophy; remember that negative outcomes ARE possible.
Beware of haters, piggybackers, bloodsuckers, time-wasters and opportunities disguised as tricks.
All those dangers arise when you stick yourself out there.
But the good news is, fortune favors the bold. So, when you stick yourself out there – in person, on the web and to the world – you will get them to come to you.
"Them" meaning the media.
"Them" meaning new customers.
"Them" meaning your employees, friends and fans.
"Them" meaning opportunities, wealth and lucky breaks.
That's what approachability is all about.
LET ME ASK YA THIS…
How do you stick yourself out there?
LET ME SUGGEST THIS…
Share your philosophy here!
* * * *
Scott Ginsberg
That Guy with the Nametag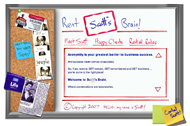 Enjoy this post?
If so, perhaps I could help on a more personal, one-on-one basis.
Rent Scott's Brain today!
---
Bio
Author. Speaker. Strategist. Songwriter. Filmmaker. Inventor. Gameshow Host. World Record Holder. I also wear a nametag 24-7. Even to bed.
MEET SCOTT