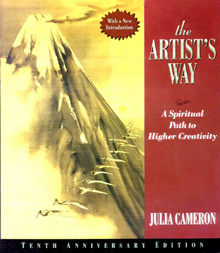 July 27, 2007 12:46 PM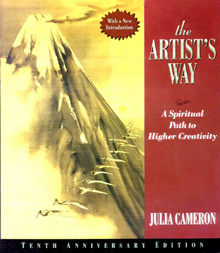 In Julia Cameron's The Artist's Way, she insists upon a daily ritual called "Morning Pages."
I've been doing them for about seven months, and they've absolutely changed my life.
AND I PROMISE YOU: it's the greatest thing you could ever do for your writing career.
Ever.
Here's how they work:
1. First thing in the morning (even before checking email!) open a blank document, either on paper or on your computer.
2. Spew out every single thought and/or idea that's running through your mind. Dreams, worries, fears, annoyances, ideas, what you did the day before, everything. (Most of it will be negative. Don't worry about that.)
3. Keep writing until you've filled up three pages. You simply show up and write, "This is how I feel."
4. When you're done, don't even read it. Just save it in a folder called "Morning Pages."
5. Then, get on with your day's work.
That's pretty much it. That's the best thing you could ever do for your writing career.
But don't it from me.
Take it from Julia, someone who's (not only) written 20+ books and taught writing and creativity, but someone who's been writing morning pages every day for decades.
I've pulled a collection of passages from several of Julia's books on this topic. All of these are direct quotes.
32 Reasons to Write Morning Pages.
First, here's what they ARE:
1. They are time outs.
2. They are portable solitude.
3. They are rituals of reflection.
4. They are a form of meditation.
5. They are the first check-in of the day.
6. They are psychological holding environments.
7. They are gateways to inner and higher selves.
8. They are tools to help you listen to yourself.
9. They are moments of free association and celebration.
10. They get the shanks out and bring forth the good stuff.
Second, here's what they DO:
11. Morning pages lend you stability.
12. Morning pages provide intimacy.
13. Morning pages prioritize your day.
14. Morning pages keep you grounded.
15. Morning pages give you a place to ventilate.
16. Morning pages give you the privacy you crave.
17. Morning pages reveal weaknesses AND strengths.
18. Morning pages render us present to the moment.
19. Morning Pages are places to examine many aspects of an experience.
20. Morning pages are places to reframe our failures into lessons learned.
21. Morning pages introduce us to an unsuspected inner strength and agility.
22. Morning pages allow you to spit out what is troubling you NOW, just when you "should" be grateful.
23. Morning Pages are places to approach our next challenge from an emotionally neutral or positive stance.
Lastly, here's why they're so EFFECTIVE:
24. You awaken your intuition.
25. You need to release thoughts.
26. You must train your censor to stand aside.
27. You can find out what you like and don't like.
28. You keep your spirit from being parched and dry.
29. You can shape your lives by your authentic desires.
30. Your problems are exposed and solutions are suggested.
31. You draw to your attention those areas of your life that need your focus.
32. You discover that a little trickle of writing keeps the flow from closing down completely.
Because a writer writes. Always.
Lastly, as Julia says, "Only in writing do you discover what you know. And writing teaches you something: that you never write just what you know. You write what you learn as you're writing. Ideas come to you and trigger other ideas. Thoughts crystallize and connect with others, and the combination produces a compound: an insight."
Wow!
Morning pages. Best thing ever.
Start today. Never stop.
Thanks, JC!
LET ME ASK YA THIS…
What's the best thing you ever did for your writing career?
LET ME SUGGEST THIS…
Do Morning Pages every day for a month. When you're done, email scott@hellomynameisscott.com and tell me how they worked out!
* * * *
Scott Ginsberg
That Guy with the Nametag
www.hellomynameisscott.com

Are you the luckiest person you know?
Watch Scott's interview on 20/20!
add to del.icio.us * digg it! * email this post
You Might Also Like...
Bio
Author. Speaker. Strategist. Songwriter. Filmmaker. Inventor. Gameshow Host. World Record Holder. I also wear a nametag 24-7. Even to bed.
MEET SCOTT