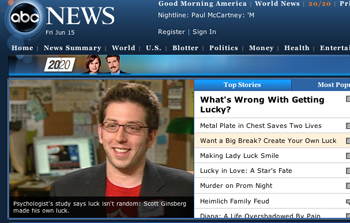 June 16, 2007 5:16 PM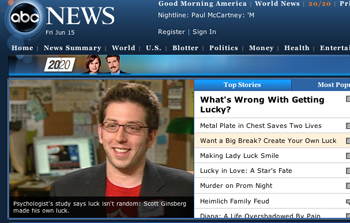 Hope everyone tuned in last night to 20/20's "The Lucky Ones"!
We watched it out here in Maderia, OH, at Casa de S.F.K.A.
It was totally cool.
Here's the transcript, fresh ABC's website:
The Lucky Ones: Is It Serendipity or Smarts?
Good Luck and Hard Work Often Go Hand in Hand
'Hello, My Name Is Scott'
Speaker and author Scott Ginsberg, 27, has no problem finding people to talk to. "I've probably had encounters with over 100,000 people," Ginsberg said.
His popularity is fueled by an accessory that may make most people uncomfortable: He always wears a name tag.
"What is with the name tag? Well, I get that probably three to five times a day. And it's been approximately 2,237 days that I've been wearing this 24/7," he said.
Ginsberg feels the name tag represents friendliness in a world filled with strangers. In fact, he started his marketing business, "Hello My Name Is Scott," when he was just 22. He now makes more than six figures a year from book sales and speaking engagements.
Ginsberg says his success is a result of his approachability and he can trace the first time it worked for him back to one key day years ago. He had a conversation with a stranger on a bus and gave him his card. "About a week later, I get a phone call from the editor of the Portland Tribune, who wants to do an article about my upcoming book. This article went out to every major news wire in the country. … Everything in my entire life since then is because that guy on the bus. His girlfriend was that reporter for the newspaper."
Ginsberg, like most lucky people, doesn't listen to naysayers. His belief in his positive attitude is so strong that he even got his name tag tattooed on his body. He said it's "100 percent real. And you know what? This is as real as my commitment. And I think that is what can actually increase someone's luck." According to Ginsberg, he is the luckiest person he knows.
– – –
I'll be sure to get the clip up on YouTube next week.
Until then, I've only got one thing to say…
"I've been dancing my ass off since Fresno!"
-Scott
www.hellomynameisscott.com
Bio
Author. Speaker. Strategist. Songwriter. Filmmaker. Inventor. Gameshow Host. World Record Holder. I also wear a nametag 24-7. Even to bed.
MEET SCOTT