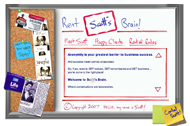 October 25, 2007 1:45 PM
Morning guys!
I'm in Raleigh, NC this week, working with a group of Child Nutrition Administrators. Great people.
So, several of them have been asking me:
"Hey Scott, why do you choose to wear the simple, hand-written nametags? Why not get something more customized and permanent?"
I get this question a lot.
And while there are many answers I could offer, here's the one that matters MOST to you:
Vagueness stimulates curiosity.
See, curiosity is a natural motivator of human engagement.
And there's a certain dissonance when people observe an unexpected or unexplained behavior.
Especially when it's inconsistent with their environment.
Like seeing some guy wearing a nametag at the gym, for example.
BUT, THAT'S THE SECRET: because it's THAT dissonance that increases the probability of an encounter.
Because people just HAVE to ask. They just GOTTA to know.
Why the heck is that guy wearing a nametag?!
So, let's relate this to the world of marketing.
Because what we're talking about is stimulating curiosity, breaking patterns and attracting interest.
So, here's your challenge:
CRAFT A MESSAGE OR AN IDEA … that when people are first exposed to it, they can't help but respond with, "Huh? Ok, so, I just HAVE to ask…"
Those words are money in the bank.
This crucial moment is called the "Point of Dissonance," or POD.
And it can occur:
o At your trade show booth
o In your marketing materials
o On your website
o In your conversations
o On the streets
o In our outside of a store
o Even on your person!
The goal of your Point of Dissonance is to create a fulcrum point from which the conversation can advance.
Because before someone gets to the "Aha!" about what you do and who you are, they have to be captivated by the "Huh?"
See, when someone says, "Ok, so, I just HAVE to ask…" what they've just given you is PERMISSION.
To deliver value.
To share your ideas.
To use up a chunk of their time.
And this permission is a valuable asset because people's time and attention are being vied for by an infinite amount of forces.
So, yes, the Point of Dissonance is about generating interest, piquing curiosity, standing out and getting attention.
But there's more.
This is about leveraging remarkability to trigger an emotional engagement.
GREAT EXAMPLE: when my friend John Moore attends business conferences, he wears a white lab coat.
People come up to him all the time and ask, "What's with the lab coat?" "I just HAD to come over and say hi…" "Why are you wearing that?" and "Are you a doctor?"
See, that's the "Huh?"
And he usually answers with the something like: "John Moore with Brand Autopsy Marketing Practice."
At which point people say, "Oh, I get it! Cool!"
See, that's the "Ah ha!"
That's John's Point of Dissonance.
What's yours?
REMEMBER: vagueness stimulates curiosity.
And people who get noticed GET business.
Stick yourself out there today.
LET ME ASK YA THIS…
What's your POD?
LET ME SUGGEST THIS…
Share your Point of Dissonance here!
* * * *
Scott Ginsberg
That Guy with the Nametag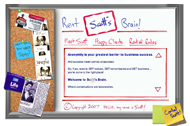 Enjoy this post?
If so, perhaps I could help on a more personal, one-on-one basis.
Rent Scott's Brain today!
---
Bio
Author. Speaker. Strategist. Songwriter. Filmmaker. Inventor. Gameshow Host. World Record Holder. I also wear a nametag 24-7. Even to bed.
MEET SCOTT