July 25, 2011 2:47 PM
[ View the infographic! ]
"Everyone should wear nametags, all the time, everywhere, forever."
That's my thesis, philosophy, dangerous idea and theory of the universe.
My name is Scott, and I've been wearing a nametag for past four thousand days.
And
after traveling to hundreds of cities, a dozen countries, four
continents, meeting tens of thousands of people, constant
experimentation and observation, building a enterprise and writing a
dozen books in the process, I believe, with all my heart, that the
societal implications of wearing nametags could change everything.
This is my manifesto:
16. The End of Entitlement
If everybody wears
nametags, deeper humility results.
Instead of arrogantly assuming everybody already knows us – or
that we're too important, too busy and too entitled to be approachable –
nametags ground us.
Now, they level the playing field so nobody is too good to
reveal themselves.
Nametags engender a greater sense of social warmth, as
opposed to separating people by whether or not their job function or role
requires them to publicly identify themselves.
If everybody wears
nametags, no more us versus them, no more power struggles and no more
unfairness.
# # #
You can read The Nametag Manifesto, in full, for free, right now, here.
LET ME ASK YA THIS…
What's your manifesto?
LET ME SUGGEST THIS…
For the list called, "7 Ways to Out Leverage Your Competition," send an email to me, and you win the list for free!
* * * *
Scott Ginsberg
That Guy with the Nametag
Writing, Publishing, Performing, Consulting
scott@hellomynameisscott.com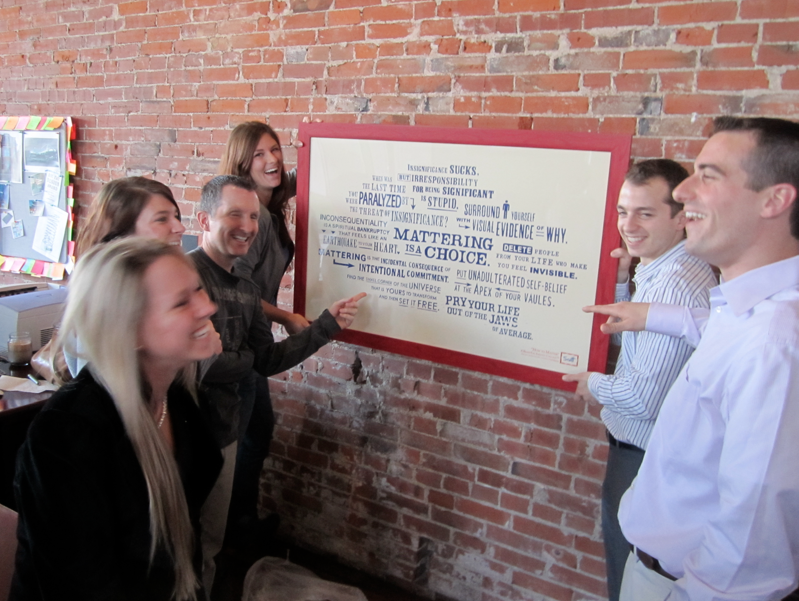 My job is to help companies make their mission more than a statement, using limited edition social artifacts.
Want to download your free workbook for The Brandtag Strategic Planning Crusade?
Meet Scott's client from Nestle Purina at www.brandtag.org!
Bio
Author. Speaker. Strategist. Songwriter. Filmmaker. Inventor. Gameshow Host. World Record Holder. I also wear a nametag 24-7. Even to bed.
MEET SCOTT