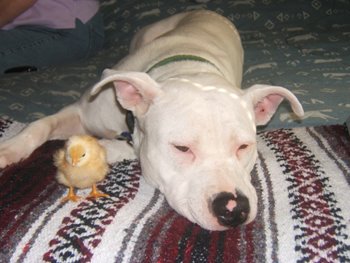 September 11, 2008 7:30 PM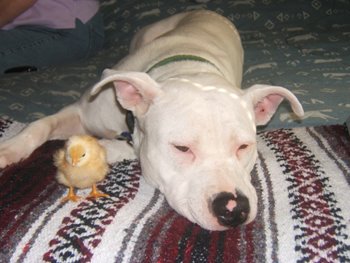 My definition of listening is, "Loving someone with your ears."
This brings to mind a common scripture quoted at many wedding ceremonies:
"Love is patient, love is kind. It does not envy, it does not boast, it is not proud. It is not rude, it is not self-seeking, it is not easily angered, it keeps no record of wrongs. Love does not delight in evil but rejoices with the truth. It always protects, always trusts, always hopes and always perseveres." 1 Corinthians 13:4-7
THEREFORE: If listening is loving, and if loving is patient…
Listening = Patience
(As you can see above, practiced by dog, Paisley.)
Here are four practices to help your grow patient ears:
1. Have faith in the process. Natalie, my yoga instructor, constantly reminds her students to be patient and with and have faith in themselves during class.
"Remember, you have sixty seconds to execute this posture," she'll say, "So take your time. It's a marathon, not a sprint. Have faith and trust that your body will be there."
Similarly, in your listening practice, you need to believe that the speaker's intention will eventually show up. Even when they're tap-dancing around the real issues. Even when they're taking too long to get to the point. Sure, you don't have all day to sit there in silence, but sometimes you can only probe so much.
NOW HEAR THIS: Faith stands for, "Finally allowing it to happen."
2. Leading others to lead themselves. Marjorie, a writer I once coached, came to me with a challenge about discipline. Because of her hectic schedule, she was unable to squeeze in regular blocks of time to complete her project.
Eventually, after asking a few questions about her daily schedule, it occurred to me that her problem wasn't about discipline; it was about time management.
Now, the old, impatient me would have flat-out TOLD her that. But part of being a patient listener – as I've learned from countless screw-ups of my own – is leading the other person to lead herself. To paraphrase from Tao Te Ching, "A good leader takes the people to the finish and makes them say, 'We did it on our own.'"
NOW HEAR THIS: Listen a little and they'll give you their problem; listen a LOT and they'll give you their solution.
3. Don't immediately come to a conclusion. Listening impatience is kind of like stress: everybody manifests it differently. For example, some people tap their pen, others incessantly shake their left leg, while others whip out their Crackberry and start text messaging their boyfriend.
For me, listening impatience has a tendency to manifest in my arm. That is, I ALWAYS have to be the first one in the discussion to ask a question. Sometimes even before the speaker finishes asking, "Do we have any questions?"
"Oh boy oh boy oh boy oh boy! I have a question! Me! Me! Me! Pick me! Oh MAN what a great question I'm going to ask! Right here! Right here!"
I know. I'm working on it. And I've been this way since I was four years old, so it may take a while.
Anyway, uncontrollable arm ticks aside, here's the secret to remember: You don't (always) have to IMMEDIATELY come to a conclusion. Whether you're practicing patience at a staff meeting, in a seminar or during a meeting with your boss, don't be so quick to impose your own answers. Just pause. Listen first.
NOW HEAR THIS: Decide if your thought is a reaction or a response.
4. Mobilize people's inner resources. As The Listener, few things are more beautiful than watching someone realize a truth on their OWN. In The Sacred Art of Listening, author Kay Lindahl writes, "If we're still like water in a pond, the other person can see his reflection in it."
That's your job. To practice attentive silence. To let people see, find, say, do, know, learn and discover on their own. Resist the need to take over while respecting the speaker's speed of self-discovery. No pushing. No forcing. Gentle nudging. Facilitating a natural process, you enable and nurture the speaker's rhythm and guide him to make the best choices.
NOW HEAR THIS: When someone is listened to, she can more easily clarify her thoughts and feelings
Now that we've identified four key practices to enhance your listening patience, let's conclude with an affirmation. I suggest you print it out, post it in a visible location and read it daily as reminder of your role as The Listener:
THE PATIENT LISTENER'S CREED
When I pause, I listen to the silences.
When I pause, I respect which questions want to be asked next.
When I speak, it's only to improve on the silence.
When I speak, it's to make a difference and contribute to the conversation.
When I engage, I make it easy for others to talk.
When I engage, I grant others adequate space to talk.
When I comment, I choose NOT to inject too much of myself.
When I comment, I choose to contribute to, not disrupt the conversation.
When I comment, I choose to be helpful and not intrude upon the speaker.
I am a Patient Listener, and I know how to love people with my ears.
LET ME ASK YA THIS…
How does your listening impatience manifest?
LET ME SUGGEST THIS…
For the list called, "27 Reasons People Aren't Listening to You," send an email to me, and I'll send you the list for free!
* * * *
Scott Ginsberg
That Guy with the Nametag
scott@hellomynameisscott.com
How many unsolicited referrals did YOU get this week?
Tune in to The Sales Channel on NametagTV.com!
Watch video lessons on enabling customers to buy!
Bio
Author. Speaker. Strategist. Songwriter. Filmmaker. Inventor. Gameshow Host. World Record Holder. I also wear a nametag 24-7. Even to bed.
MEET SCOTT