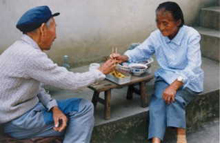 January 15, 2007 11:43 AM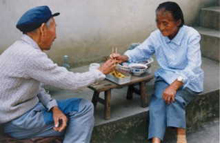 Over the years I've had so many lunches with so many people, I can't even keep them straight.
My guess is, it's probably somewhere around the 300's.
Many of these invitations come via email or phone; often from people who: (a) sat in one of my audiences, (b) bought one of my books, (c) stumbled across my website or (d) read about me somewhere.
I'm always honored to receive them.
Obviously, people visited my website to obtain my contact information. Which is fine. That's why I post it there.
Obviously, they understand why I wear a nametag 24-7: to make people friendlier.
And obviously, they feel that I'm approachable. So approachable, in fact, that they say, "What the heck? He's a friendly guy. He'll have lunch with anybody!"
Well, yes and no. I wouldn't go so far as to call me a Lunch Whore. But yes, for the most part, I've accepted most of the invitations that have been extended to me in the last 2,268 days. Whether they were breakfasts, lunches, dinners, coffees or after work drinks, I was usually up for it.
Because I believe in serendipity.
Because I believe in expanding my network.
Because I believe in learning from new people.
Over the years I've met some amazing people, too.
People like Kristi Govertson. The math teacher who saw me on CNN, went to my website, emailed me the next day and invited me to meet her at Starbucks.
So I did. And we hit it off instantly! We became great friends, and still are to this day. I even remember the time I suffered through a tough breakup and Kristi was the one who dragged me to Ben & Jerry's to cheer up my broken heart. (Sniff)
Or people like Jim Henderson. The Pastor who read an article about my book, dropped me an email and suggested meeting up.
A few weeks later Jim and I met in person. He happened to be traveling via Portland to Seattle, so the timing was perfect. Once again, we hit it off. As a fellow speaker, Jim and I had a lot in common. And over the years we've stayed in touch, shared ideas, even helped promote each other's work.
And people like Andy Masters. Both of us were members of the St. Louis Publishers Association. Both of us were young authors. And both of us graduated from the same high school, albeit a decade apart.
I'll never forget our first lunch. We must have laughed for an hour straight! The waitress probably though we were nuts. Our brainstorming session was monstrously productive. Both of us walked away with dozens of new marketing ideas for our respective projects. And today, I consider him to be one of my closest friends.
The list goes on and on. I bet I could write an entire book about people like Kristi, Jim and Andy.
However.
Not all of my coffees and lunches came out that successful.
Like the time I got duped into having lunch with that nice lady, Susan. Who tried to sell me Amway.
Like the time I met up with Jon, who claimed to have "an idea that could help my business." He turned out to be a tabletop advertising salesman.
Or like the time I thought I was having a lunch meeting with Dick, who said he wanted to book me for a speech. Two painful hours later I realized it was high-pressure sales pitch for a personal banking pyramid scheme.
And then there was the time I agreed to have coffee with Bob, one of my audience members. He not only tried to sell me insurance, but also had the audacity to ask me for ten referrals of friends and family members who "also might be interested in his services."
Oh, and don't forget about Julie. We had a great lunch together, sharing ideas about small business success. I thought we would become colleagues. That is, until she suckered me into one of those transformational-learning Jedi-mind-trick-bullshit cult seminars where they don't even let you leave the room to pee.
Still, my all-time favorite would have to be Edna. She sent me a hand-written letter in the mail, three years after hearing me speak. Edna needed help publishing her book. I agreed to meet her for lunch to offer some advice.
Little did I know that Edna was an 83 year-old paranoid schizophrenic who claimed that the FBI had inserted a tracking device in her frontal lobe in order to control her mind so she wouldn't blab to the politicians in Washington about the 18 year history of abduction and torture performed on her son by Hilary Clinton's advisors.
I know. You can't make this stuff up.
Sadly, the second list goes on and on too. I bet I could write another book about people like Susan, Jon, Dick, Bob, Julie and Edna.
Because apparently, some people aren't after your friendship.
They're after your money. Or your connections. Or your secrets. Or your smarts. Or in Edna's case, your brain itself.
Here's the thing. I'm grateful for all of the coffee and lunch friends I've made since I started wearing a nametag seven years ago. Business. Personal. Whatever. I love these people! Especially the ones who became close friends and colleagues. You can't put a price on that stuff.
But some people have a lot of nerve.
And I'm tired of being taken advantage of.
Everyone has to draw the line somewhere. It IS possible to be TOO approachable!
Now if you'll excuse me, I have to head over to McDonald's. I just got a call from some strange guy named Gus. I don't know much about him other than he was just released from prison on a murder charge. Said he was a big fan of my work. And he asked me to bring a copy of my book, a change of clothes and an ice pick.
Sounds like a nice guy.
LET ME ASK YA THIS…
Have you ever regretted meeting someone for lunch or coffee?
LET ME SUGGEST THIS…
Create your own "Opportunity Filter" by asking the following four questions to strange people who want to get together: 1) What is your full name? (So you can Google them), 2) Who do you work for and what is your job title? 3) What (specifically) would you like to discuss during our meeting? and 4) What positive motivation do you have behind this meeting?
* * * *
Scott Ginsberg
Author/Speaker/That Guy with the Nametag
www.hellomynameisscott.com
Bio
Author. Speaker. Strategist. Songwriter. Filmmaker. Inventor. Gameshow Host. World Record Holder. I also wear a nametag 24-7. Even to bed.
MEET SCOTT