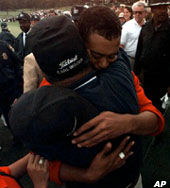 March 21, 2007 2:28 PM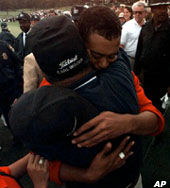 My Grandpa Frank always told me, "A chicken ain't nuthin' but a bird."
For years I struggled with the meaning of that phrase. I even googled it a few times it and had no luck discovering its origin, other than the song by Cab Calloway.
So I asked him one day.
"Scotty, age is nothing but a number," Grandpa reminded me. "Especially when customers or coworkers don't take you seriously because you're young. A chicken ain't nuthin' but a bird."
EXAMPLE: think back to 1997. Tiger Woods shocks the world by winning The Masters by a whopping 12 strokes.
He was 21 years old.
AND PICTURE THIS: After hugging his father, Earl Woods, Tiger stands on the 18th Green with tears in his eyes. A live crowd of thousands (and a TV audience of millions) watch Tiger slip on that coveted green jacket to become the youngest golfer in history to win The Masters.
Do you think Tiger was still worried about his age?
Do you think all those raving fans that witnessed sports history CARED about his age?
Heck no. Because in sports, in business and in life: abilities trump age.
Especially on Sundays.
LET ME ASK YA THIS…
Ever used used your abilities to trump your age?
LET ME SUGGEST THIS…
Give us an example here!
* * * *
Scott Ginsberg
Author/Speaker/That Guy with the Nametag
www.hellomynameisscott.com
add to del.icio.us * digg it! * email this post
You Might Also Like...
Bio
Author. Speaker. Strategist. Songwriter. Filmmaker. Inventor. Gameshow Host. World Record Holder. I also wear a nametag 24-7. Even to bed.
MEET SCOTT