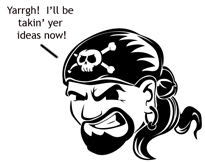 August 15, 2007 1:45 PM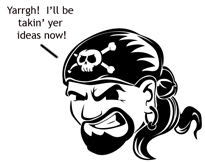 You're a creative professional.
That means you make a living off of your ideas.
SO, HERE'S THE BIG QUESTION: how do you deal with people stealing your material?
Tough issue. Has been for a long time.
Plagiarism comes from the Latin plagiare, meaning, "to kidnap."
It's defined as "the practice of claiming, or implying, original authorship or incorporating material from someone else's written or creative work, in whole or in part, into one's own without adequate acknowledgment." (From Wikipedia.)
Because idea piracy is such a big issue, here's a list of seven potential solutions to deal with it:
1. Take legal action. This is an expensive, frustrating and timely pursuit. However, it could pay off in a BIG way if you win. Not to mention, become a deterrent for future offenders. HINT: ask more experienced creative professionals (or lawyers) if you have a case first.
2. Catch it early. You can't control your online image. You can only monitor and participate IN it. That's where Google Alerts come in handy. And if you're tracking the right search terms, you'll be the first to know when someone is stealing your material. Do you know every time someone is talking about you?
3. Kill 'em with friendliness. Sometimes "stealing" and "using" isn't the same thing. Still, it's your job to find out. For example, last year my Google Alerts informed me that someone WAS using one of my taglines. So, I found they guy's email, dropped him a line and cordially asked him to stop using my registered trademark. He was totally respectful and apologetic. He had no idea! So, if this happens to you, be friendly first. No need to get nasty or defensive.
4. Karma. Be honest with yourself: have YOU ever stolen someone else's material? Just something to think about.
5. Protect thy content. On your blog or website, include a piracy notice or reprint policy. Tell visitors they are welcome to use your material if they:
a. Email you to ask for permission
b. Give you full credit with your specified BIO
c. Send you a copy or a link for the inclusion
Most people will respect this, especially if you drop Creative Commons on them.
REMEMBER: people respond to policies.
6. Validate. OK, let's say someone DOES steal your material. Ask yourself three questions:
a. Will this person's dishonesty, unoriginality and lack of creativity cause their execution of the idea to fizzle anyway?
b.Is this SUCH a minor incident that I shouldn't even bother worrying about?
c. Is there really anything I can even do about it?
REMEMBER: Lincoln said, "You can fool some of the people some of the time, but you can't fool all the people all the time." Eventually, most thieves get caught.
7. Let it go. The nature of the Internet makes it VERY easy for people to steal material. The question is: how concerned are you?
Creativity Guru Lee Silber says, "Very few people have the intent, ability, follow-through or malice to steal your ideas. Don't let this fear hold you back. Do what you can to protect yourself and your ideas, and then go out and spread the word."
So, this isn't about naivety, this is about reality. Is it really worth losing z's about? And is it a problem or a predicament?
Those seven approaches notwithstanding, here's my answer to the idea-stealing issue
The best way to block a punch … no be there.
Those were the words of Mr. Miyagi from Karate Kid II.
IN OTHER WORDS: if you don't want people stealing your material and using your ideas, make them unstealable.
Create and position your material in a manner that is SO unique to you, your brand and your voice … that nobody COULD steal it.
And if they did, people would know it.
That's what I would do.
Ultimately, whichever approach you choose, just know this: idea piracy DOES happen.
Your challenge as a creative professional is to create a plan that effectively and efficiently deals with it when it does.
And, if you're one of those unfortunate artists who DOES get her ideas kidnapped, remember this old scripture: (I learned this from my high school English teacher)
"And let us not be wearing in well doing: for in due season we shall reap a harvest if we faint not."
Because at the end of the creative day…
People who steal ideas are cowards.
People who steal ideas are unoriginal.
People who steal ideas are uncreative.
People who steal ideas are going to get caught.
People who steal ideas are not going to sustain themselves.
So, don't let it get you down. Piracy is flattery.
After all, if your idea was so good that somebody wanted to steal it, maybe that should tell you something 😉
LET ME ASK YA THIS…
How do you prevent and/or deal with idea pirates?
LET ME SUGGEST THIS…
Share your best piracy story here, along with how you handled it.
* * * *
Scott Ginsberg
That Guy with the Nametag
---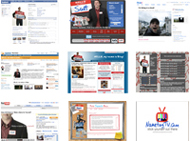 Are you a friend of The Nametag Network?
Read more blogs!
Rent Scott's Brain!
Download articles and ebooks!
Watch training videos on NametagTV!
Make a name for yourself here…
---
Bio
Author. Speaker. Strategist. Songwriter. Filmmaker. Inventor. Gameshow Host. World Record Holder. I also wear a nametag 24-7. Even to bed.
MEET SCOTT