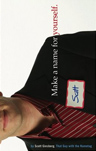 May 18, 2007 2:17 PM
Just finished my four-day stint here in South Flor-ee-da.
(Oh, and if you didn't get a chance to watch my interview from WINK News, check this out!)
Anyway, before heading to the airport, I decided to take a walk on the beach.
It was sunny. It was warm. It was breezy. It was perfect.
A few people mulled about, although it was still pretty early.
At around 7:30 I saw a man approaching me from the opposite direction.
He was one of those old guys donning a speedo, hat, sunglasses and a ridiculous tan.
Not to mention, a smile you could see from space.
He passed and greeted me with a hearty, "Good morning Scott!"
"Morning!" I cheered back.
As he walked passed me, I overheard him greeting a few other beach walkers the same way.
And then something occured to me.
That guy must be, like, REALLY, really happy.
I don't really have a point to this story.
I just thought it was cool.
LET ME ASK YA THIS…
Where would you want to retire?
LET ME SUGGEST THIS…
Describe your "Perfect Retired Day" here!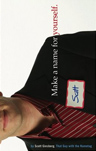 * * * *
Scott Ginsberg
That Guy with the Nametag
Download Scott's new book!
Right here, right now, for FREE, no strings.
Bio
Author. Speaker. Strategist. Songwriter. Filmmaker. Inventor. Gameshow Host. World Record Holder. I also wear a nametag 24-7. Even to bed.
MEET SCOTT