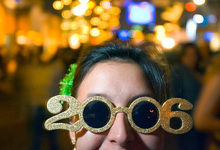 January 02, 2007 3:08 PM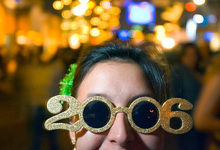 1. Health comes first.
2. Press the off button.
3. Drink more water.
4. Take breaks every 50 minutes.
5. Do breathing exercises.
6. Don't let anyone monopolize your time.
7. Read more fiction.
8. Take off a Monday or Friday here and there.
9. Write on day one, edit on day two.
10. Ignore the 10; stick with the 90.
11. Age only matters if you're a cheese.
12. Stop hanging around people who are doing nothing with their lives.
13. Take more walks.
14. You can always wear sandals.
15. Don't accept every invitation.
16. Everybody has to draw a line on their approachability.
17. Travel without plans.
18. The media doesn't care about you.
19. Broaden the diversity of your music library.
20. Question more things.
21. Inspiration comes unannounced.
22. It's not the years; it's the mileage.
23. Media shots come in threes.
24. Forward, visual thinking works.
25. Goals work.
26. Stop using the word "networking."
27. Match music to environment.
28. Anger is the enemy.
29. You don't need to be a slave to your cell phone and email.
30. Once you discover you don't need the world's box, you're set free.
31. Writing is the basis of all wealth.
32. Make more lists.
33. Reframing works.
34. Tell your friends that you love them more often.
35. World Series games are the greatest ever.
36. Ask yourself two questions: "What did you write today?" and "Is everything you know written down somewhere?"
37. Nothing makes bank tellers happier than a dozen free root beer floats.
38. Professional photos are worth it.
39. Free ebooks are the greatest.
40. Video is the future.
41. Disarm immediate preoccupation.
42. Smaller, more frequent feedings.
43. It's ok to walk softly.
44. Careful how many ribs you eat in one sitting.
45. Some people are just idiots.
46. A person will act cruel or mean to you because: (a) he thinks you don't like him, (b) he feels threatened by you, (c) you did something to upset him, or (d) he's an asshole to everybody.
47. You can only work a job that sucks for so long.
48. Pay attention to the road.
49. Smokers suck.
50. Smile on camera.
51. Don't rehearse so much.
52. When meeting a potential client for the first time, make sure you sit down at the right table and not with a strange man named Rajesh who has no idea who the hell you are (hypothetically)
53. Smile for three seconds when you walk in the room.
54. Get more massages.
55. Don't drive an hour both ways at 6 AM in the middle of Florida just to do an interview on some worthless WB news show that nobody watched and got you no sales or bookings.
56. Kookaburra licorice is the greatest.
57. It's ok to go short, but not TOO short.
58. Stress is really, really powerful.
59. Audio products don't sell.
60. Christopher Walken is the greatest.
61. Keep it alive.
62. 8 words or less.
63. Is what you're doing right now consistent with your #1 goal?
64. There are only a few select people who know exactly what you're going through. Stick with them.
65. It's great to have a spot.
66. As you become busier and more successful, you begin to value your time a whole lot more.
67. Interaction, not interruption.
68. Marketing and dating is the exact same thing.
LET ME ASK YA THIS…
What lessons did you learn in 2006?
LET ME SUGGEST THIS…
Post your list here!
* * * *
Scott Ginsberg
Author/Speaker/That Guy with the Nametag
www.hellomynameisscott.com
add to del.icio.us * digg it! * email this post
You Might Also Like...
Bio
Author. Speaker. Strategist. Songwriter. Filmmaker. Inventor. Gameshow Host. World Record Holder. I also wear a nametag 24-7. Even to bed.
MEET SCOTT