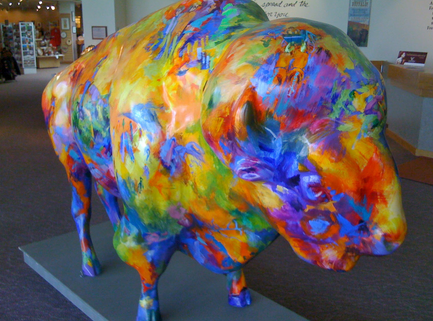 The
other day I was listening to an interview with a successful cartoon voice
actor. When asked about his work experience at a major television network, he
said the best about his job was,they used every part of him like a buffalo.
We should all be lucky enough to work that way.
Firing on all cylinders, making use of everything we are,
exploiting talents we didn't know we had, keeping all of our passions in play, using our
strengths to do what we do best and leaving no faculty untapped.
Just
like the indigenous people.
According to the book The Mystic Warriorsof the Plains, two hundred years ago, buffalo actually outnumbered humans
by a factor of twenty. It's no surprise, then, that they became a veritable one
stop shop for the early settlers. Clocking in at no less than two thousand
pounds, buffalo were used for just about everything:
The
meat? Breakfast, lunch, dinner and snacks.
The
tail? Fly brushes, lodge decorations and whips.
The
buckskin? Clothing, lance covers, bags and cases.
The
hooves? Glue, rattles, hatchets or butchering mallets.
The
horns? Cups, fire carriers, spoons, ladles, signals and toys.
The hair? Headdresses, saddle filler, pillows, rope and ornaments.
The
dung? Fuel for cooking and heating.
The
sinew? Ropes, cords, bow strings and thread.
The
innards? Containers, tobacco pouches and baby rattles.
The
bones? Needles, ground pegs, decorations and religion artifacts.
The
tallow? Healing ointments, mixing paints, food sealers and glue.
The rawhide?
Medicine bags, shields, buckets, knife cases and horse stirrups.
That's what you call creating value. In the today's culture, the buffalo would
make employee of the month, every month, until they retired.
And
so the question is, in a world constantly conspiring to make us less
than we are, filled with people invested in keeping us in our lane, how can we
be more like the buffalo? How
can we avoid limiting ourselves to one vision of our capabilities?
Fortunately, there's no right way to do it. There are as
many career paths as there are people to take them. Let's explore a few of
them.
A few years ago, I had two epiphanies.
First, that I was bored, burned out and lonely after working
for myself for twelve straight years. Second, that I had no desire to scale in
order to burn out even more.
I decided to go on summer sabbatical, in search of the next
stone on my professional path and discern the future horizon of my work. During
those three months, I read a book that had a profound effect on my decision
called The Startup of You, written by
Reid Hoffman, entrepreneur, venture capitalist and the cofounder of LinkedIn.
His observations were as follows:
"Instead of locking
yourself into a single career path, keeping your career in permanent beta,
forcing yourself to acknowledge that you have bugs, that there's new
development to do on yourself, and that you will need to adapt and evolve."
Eventually, I made the decision to stay true my
entrepreneurial spirit, while still enlarging my concept of work itself. I ended
up taking a full time job that allowed me to continue to expand my journey by
day, while holding onto my own unique brand, business and artistic endeavors by
night.
This couldn't have been a healthier path for me. Embracing
the best of both worlds, holding down a day job, but also keeping all my
passions in play by investing in multiple containers of meaning, was incredibly
satisfying. Because even though I changed my narrative to connote a different
meaning, it was still one that remained true to reality.




I'm reminded of something my mentor said that I'll never
forget:
"The definition of
work, of career, of what is and is not a business, are forever altered and can
be molded to fit anything that excites and feeds your soul, if you choose to
explore it intentionally. Your option for how to create fulfilling work is only
limited by your imagination's ability to create scenarios that excite you."
So that's one path.
But what about this one?
Jared Leto, who first achieved mainstream recognition as an actor
in the nineties, also successfully pursued careers as a musician, director,
producer, activist, philanthropist, photographer, filmmaker and businessman.
He's one of my favorite multi hyphenates. Plus he has dreamy
eyes.
During a recent interview, he said that a few years ago, he
sought out to make another film for the first time in four years, just to see
of there was anything else left in that world for him.
Apparently, there was.
Leto's groundbreaking performance as a transgender woman in Dallas Buyers Club received critical acclaim
and earned him an Oscar, Golden Globe, Critics Choice and Screen Actor's Guild
Award.
But the best part was, once award season was over, he was
back on tour with his band, traveling the world, playing music for millions of
screaming fans.
Leto proves that we have a responsibility to remake
ourselves as we grow and as the world changes. To allow ourselves the freedom
to change as we discover. To evaluate new opportunities as they present
themselves. And to consider our evolving intellectual and experiential assets, always
willing to change direction based on what we've learned. Even if that means
circling back to something we haven't done in years.
There's a fantastic passage in The Artist's Way about very idea, about remaking ourselves every
few years in order to pursue something exciting and new:
"In order to grow as
artists, we must be willing to risk. We must try to do something more and
larger than what we have done before. We cannot continue indefinitely to
replicate the successes of our past. Great careers are characterized by great
risks. It takes courage to jettison the mantle of what we have done well for
the chance to grab at the cape of what we might do even better. We cannot play
it safe and expand as artists at the same time. We must risk expanding our
territory."
So that's another path.
But what about this one?
A career, after all, is the feedback about the self that
comes in response to the work. And sometimes that means gaining clarity around
what's not for us.
During a recent public radio interview, Jerry Seinfeld was
asked if he ever considered a movie career, to which he replied, "What I do is
the only thing that makes sense to me. I'm a standup comedian, and that's what
I call myself. As for acting, I don't think the world needs me to do that."
I like a man who knows who he is.
Which doesn't mean Jerry's not exploring new ways of being an artist, he simply doesn't see
another corridor for himself right now. And you have to respect that kind of
artistic boundary.
So that's another path.
And the good news is, there are a thousand more. And no two
are the same. Each one comes replete with its unique set of challenges,
rewards, experiences and learnings.
But
whatever path you choose––or perhaps whatever path chooses you––what matters
most is that you make use of everything you are.
The way I see it, as long as you're going to spend you life
weaving a story about yourself, you may as well blow the ceiling off of
anything resembling a limitation.
Be like
the mighty buffalo.
Leave
no asset unharvested.