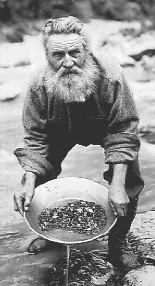 Imagine you're a California prospector panning for gold in 1852.
One morning, you spot something glinting in the pan.
Naturally, the first thing you do is look around to see if anybody else noticed.
They didn't. Whew.
You take a closer look, thinking to yourself, "This is it! This is my payday!"
Sadly, upon further exploration, your hopes and dreams are crushed when the rock turns out (not) to be gold.
Just a mere flash in the pan.
Damn it!
..
That's where the phrase "flash in the pan" originated…
Interestingly, a century and a half later, it has a different meaning. According to my trusty Urban Dictionary, a flash in the pan is:
"A project, person or idea that enjoys only short-lived success; something that disappoints by failing to deliver anything of value, despite a showy beginning."
How many of those have you encountered over the years?
MY GUESS: Too many.
Why?
Well, sustainability is hard.
As an artist.
As a partnership.
As an entrepreneur.
As an organization.
The long haul isn't just long – it's laborious.
And if you want to last (and who doesn't?) you've got to start planning to do so today.
Here's how:
1. Identify your absolute baseline. In a relationship, love isn't enough. Sure, love gets the job done when you're in high school – but not when you seek sustainability. Not when you're trying to build a life together. As much as we'd like to buy into the fairytale, life isn't a Beatles song. Love isn't all you need.
Sustainability is a function of: (1) compatibility through common constitution, (2) mutual vulnerability and respect through radical honesty, and (3) shared commitment through the willingness to (not) get lazy with each other.
I know this because I once ended a four-year relationship with someone that I loved more than anyone on the planet. But that was precisely the danger: All there was – was love. And it wasn't enough to sustain us.
Your challenge is to figure out the minimum requirements for the survival, for the lasting, of whatever endeavor you're engaged in. Whether it's a personal relationship, business partnership or entrepreneurial venture, somewhere there is a baseline. Define it. Memorialize it. Reinforce it. Otherwise the soundtrack of your failure is going to be all Beatles, all the time. What isn't enough for you to last?
2. Passion can be seductive. Passion without purpose is pointless. Nothing but a beautiful, blazing fire that burns you and everyone you touch. What's more, passion without relevance, marketability and a foundation of skill to support it, won't last.
My suggestion: Before you empty your entire bank account for (and re-orchestrate your entire life around) your lifelong passion for baking blackened raccoon testicle cupcakes, consider two additional questions:
*Will the thrill of your passion dissipate once it becomes a daily task?
*If you (did) end up making a business out of your passion, how long would it take before you feel robbed of your true talent because you're wasting most of your time and energy on menial, soul-sucking activities that have nothing to do with your passion?
Remember: Passionate doesn't (necessarily) mean profitable. Be careful. Are you confusing passion with infatuation?
3. Multiply your reservoir. In Tom Robbins's seminal novel, Still Life with Woodpecker, the central question of the book is, "How do you make love stay?" And while he answers the question several times throughout the text, the following passage is my favorite:
"When two people meet and fall in love, there's a sudden rush of magic. Magic is just naturally present then. We tend to feed on that gratuitous magic without striving to make any more. One day we wake up and find that the magic is gone. We hustle to get it back, but by then it's usually too late, we've used it up. What we have to do is work like hell at making additional magic right from the start. It's hard work, especially when it seems superfluous or redundant, but if we can remember to do it, we greatly improve our chances of making love stay."
For example, as a writer, every day, I'm constantly adding, organizing, updating, tweaking and fortifying the creative inventory of my idea factory – one sentence at a time. That's my system for making additional magic right from the start. How will you multiply your reservoir?
That's the key: Whether you're sustaining a relationship, organization or career, find a way to create a constant surplus position. What's your secret for making love stay?
4. Determine what you deem meaningful – then disregard the rest. I'm not suggesting you stop caring. Rather, learn to become selectively apathetic. Be honest with yourself about what really matters to and motivates you. Otherwise you'll end up over-investing in the inconsequential. And that's when you learn that (not) doing what you love is the most dangerous thing of all.
A helpful reminder is to constantly ask yourself, your team and your organization two questions: Will doing this matter a year from now? Why aren't doing what matters to you right now?
Remember: It's easy to persist when you know who you are. Are you, on a daily basis, doing stuff that matters?
5. If you're not fully engaged, don't bother. In the book Success Built to Last, Jerry Porras wrote, "You can run a marathon at gunpoint, but you probably won't win the race." I would also add: Nor will you enjoy running it, and nor will people enjoy watching you struggle through it. Plus you'll probably ruin your shoes.
Here's the reality: To last is to require full engagement of all your faculties. The exciting part is, once you learn to enlist everything you've got, every time, ample stamina become freely available to you. What are the obstacles you create that hinder full engagement?
6. Grow thicker skin. I used to work with a guy named James. When we met, he was the longest living employee of the company. And not surprisingly, his life philosophy was, "Nothing shocks me but electricity." Lesson learned: Don't ignore criticism – but don't sit there and take it like a punching bag.
It all depends on the source, the validity of the comment made, plus the context in which it was made. That way, you balance thicker skin with bigger ears. That's the best part: Criticism keeps you in check when it's right, and keeps you in chuckles when it's ridiculous. Are you an alligator or a goldfish?
7. Take risks for the right reasons. Otherwise you're not being risky – you're being reckless. And that's when people start to get hurt. That's when things start to get broken. The challenge is, sometimes you have to jump off the high board even if you're not sure if there's any water below.
Fortunately, if you take a risk for the right reasons – and even if you do fail miserably – the process will still transform you. Which means you didn't (really) fail, just enrolled in an instant education. Will you evolve your desire into a tale of heroism, or wimp out and buy tickets to the What I Should Have Said Theater?
8. Focus on what you want to build. A platform? A brand? A body of work? A reservoir of knowledge? A family? A membership? A following? An empire? A permission asset? A validation squad? A critical mass of interest? A greater sense of client intimacy?
Whatever. It matters less what you build, and more that you build. Truth is: The people who build are the ones who last. Forever. Did you work on your legacy today?
9. Instigate a process of self-reinvention. Otherwise, complacency grows. And where complacency grows, inertia flows. As I learned in Trust Agents, "Reinventing the space you're in naturally helps you stand out. And as people who stand out redefine the industry they are working in; they have an easier time making a name for themselves."
The hard part is, you have to give yourself permission to become known for something else. It's a form of letting go, and it hurts. Now, I'm not suggesting disregarding your early accomplishments; rather, accepting the past as prologue, as the thing that brought here, and constantly evolving into something bigger, better and more valuable.
Remember: In the ongoing battle of sustainability, reinvention is the trigger of advancement. Will you surrender to the next phase of your own evolution or become a prisoner of yesterday's success?
10. Those who leverage, last. "To increase the rate of return of an investment." That's the official definition of the word leverage, although I prefer to think of it as "killing two stones with one bird." Either way, in my experience as an entrepreneur, leverage is the single smartest strategy for making anything (or anyone) last.
The secret is asking leverage questions. Try these on for size: What is the movement value of this idea? Now that I have this, what else does this make possible? How does this fit in with my theory of the universe? Ultimately, it's a shift from your current mindset into an awareness plan of constant opportunity. How will you increase the rate of return?
11. Practice good-hearted stubbornness. Notice: Not terminal certainty. Instead: Resolute persistence, paired with commitment to boundaries through self-control and self-discipline – but not at the expense of someone's respect.
In short: Standing your ground without stepping on people's toes. If you approach your decision-making process from this perspective, you won't just last – you'll outlast the waffling majority of chameleonic pushovers who couldn't stick to their guns if they took a bath in Elmer's Glue.
Interestingly, the word "stubborn" comes from the Old English term stybb, which means, "stump of a tree." Funny. Tree stumps last for hundreds of years. How much longer would you last if you planted your feet firmly in ground of your truth?
REMEMBER: Sustainability is hard.
It requires patience, stamina, persistence and labor.
That's why not everyone lasts.
I challenge you to incorporate these eleven practices into your daily life so you become one of the people who do.
Otherwise, you're nothing but a flash in the pan.
LET ME ASK YA THIS…
Are you an expression of action?
LET ME SUGGEST THIS…
For the list called, "11 Ways to Out POSITION Your Competitors," send an email to me, and I'll send you the list for free!
* * * *
Scott Ginsberg
That Guy with the Nametag
Author, Speaker, Entrepreneur, Mentor
[email protected]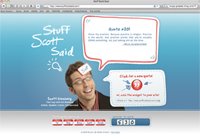 Who's quoting YOU?
Check out Scott's Online Quotation Database for a bite-sized education on branding success!