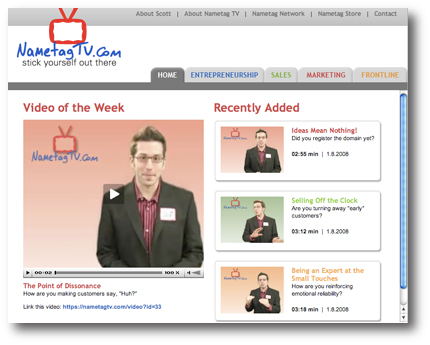 January 23, 2008 1:42 PM
This week I'm back in good ol' Cincinnati, working with my friends over at The Hyatt Regency.
It's always good to be back. Reminds me of college. Things like Skyline and WEBN bring back fond memories. Sigh…
Anyway, today I wanted to try something a little different: a bunch of random thoughts PLUS the "thought inspiration" behind each one.
Just in case you were wondering where I come up with all this stuff.
Enjoy!
– – –
1. Always think on paper. (Inspired by reading a lot of Mihaly.)
2. Art comes through you, not from you. (Inspired by eating lunch with Bill Jenkins.)
3. Customers become comfortable when YOU are comfortable. (No idea where this one came from.)
4. Do everything creatively. (More Mihaly.)
5. Do experiments everywhere. (Sparks of Genius – really neat book.)
6. Everything communicates something. (It's fun to look around at the world and ask yourself, "Now, what is THAT communicating?")
7. Foster customer activity. (From reading Chip's stuff.)
8. Help people get beyond their misconceptions. (Yep, more Chip.)
9. Let experiences change you. (No idea where I heard this one.)
10. Other people who do what you do have already miseducated your customers. (Doesn't that suck?)
11. Premature organization stifles creative generation. (Ah, the wonderful world of Distributive Cognition!)
12. Recognize threats to your ownership. (Really fantastic book called Ordering Your Private World – all leaders MUST read this.)
13. The goal is to get them to learn it on their own. (Teaching really DOES sell.)
14. The listener controls. (Man, that's really a neat thought. Thanks Mark!)
15. There's never a perfect time. (Because, obviously, SFKA.)
OK, that's it! See ya tomorrow.
LET ME ASK YA THIS…
What (or whom) inspires your thinking?
LET ME SUGGEST THIS…
Share five random thoughts, and how you were inspired to think them.
* * * *
Scott Ginsberg
That Guy with the Nametag
scott@hellomynameisscott.com
…only 13 more days until NametagTV.com goes ON AIR!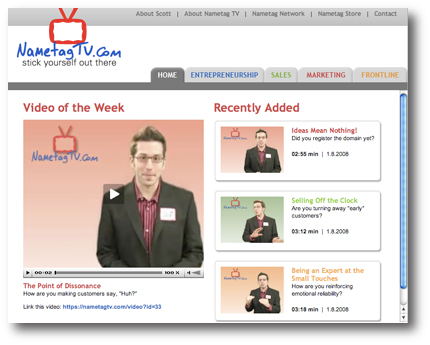 Bio
Author. Speaker. Strategist. Songwriter. Filmmaker. Inventor. Gameshow Host. World Record Holder. I also wear a nametag 24-7. Even to bed.
MEET SCOTT