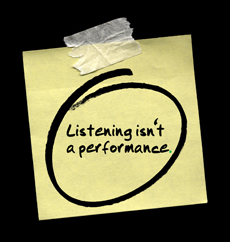 January 21, 2008 12:33 PM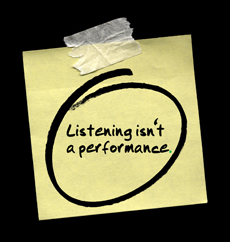 What's the secret to Growing Bigger Ears?
THREE WORDS: Constant, visual reinforcement.
So, here's what you do.
1. Grab a few sticky notes and a Sharpie.
2. Start brainstorming a list of your biggest listening challenges, i.e., "Pause three seconds before answering a question," or "Don't ask 'Why?' ask, 'What or How?'"
3. Summarize, symbolize and shorten those ideas into memorable soundbites.
4. Post them around your office, by your phone, in your car, on the door, in the bathroom, on the mirror, or anywhere else you might glance at during the day.
5. Start Growing Bigger Ears!
Now, if you're stumped for Listening Reminder ideas, here's a quick list of 38 suggestions to get you started:
– – –
1. L-I-S-T-E-N = S-I-L-E-N-T
Whaddaya know? Same letters! How comfortable are you with silence?
2. 2 ears, 1 mouth
Listen and speak proportionately. This physical feature wasn't an accident.
3. SHUT UP!
A little harsh, but some people need to hear it.
4. Advice or understanding?
Find out which one the other person is asking you for.
5. WAIT 3 SECONDS.
Let the pearl sink. Think before responding.
6. MAKE SPACE.
Physically and emotionally, to accept new ideas and thoughts.
7. Attention, acknowledgment, appreciation, affirmation.
The four A's of effective listening!
8. Responses, not answers.
That's what to look for. Sometimes their body says something else.
9. (L-I-S-T) E-N
The first four letters suggest a great method of note taking. More about the magic of listing here!
10. SAFETY.
Until this exists, the other person will NOT open up comfortably.
11. WHAT or HOW, not Why.
Prefixing your questions with "Why?" causes defensiveness. Depersonalize your words.
12. What happened next?
Think of yourself as a trial lawyer. Lead the witness where she wants to go.
13. TELL ME ABOUT.
Encourages people to open up comfortably, allows them to pace and name the conversation according to their needs.
14. Bite your tongue!
People with big ears have teeth marks on their tongues.
15. NO ADVICE.
Are you giving it when people didn't ask for it?
16. Don't add (too much) VALUE.
Contribute AFTER (not during) the listening process. Resist the temptation to hijack the conversation with your own experiences or ideas.
17. Listening, not waiting to talk.
Are you trying to find an opportunity to steal the stage take over?
18. Don't fix.
That's not your job. That's not what they want. That's not why they came to you.
19. Say what you see.
"I see that you're really upset." "I see that you've come in an hour late every day this week." Maintain objectivity so you don't sound accusatory.
20. NO Agenda.
Listen not to add value, argue, fix, solve;; to make the other person feel better or to look like a good listener. Listen just to listen.
21. Will this comment disrupt or contribute?
Before interjecting, this is a great question to ask yourself? If it can wait, write it down. If not, acknowledge and shut up.
22. Post a picture of a blank tape.
To remind you what you're there for.
23. Don't react; respond.
Emotional reactivity is the #1 internal barrier to effective listening.
24. WHAT wants to be said next?
Not, "What do I want to say next?" Suspend your agenda and let the appropriate comment surface on its own.
25. I see, not OK.
It's positive, empathetic and non-committal; whereas "OK" takes a side.
26. PERMISSION.
Because that's what people need in order to feel safe to open up.
27. Post a picture of a lake.
Be still like a body of water. As a result, the other person will be able to see their reflection in it, which will lead to breakthroughs of their own making.
28. Problem or predicament?
Problems have solutions; predicaments have options.
29. Take two breaths first.
This is a great technique to practice before answering the phone or opening the door for someone to walk in. Oxygen prepares your body and primes your mind and heart to receive the other person.
30. Ask; don't tell.
Be curious, not judgmental. Use engaging, generative language. Show the other person that you trust them to develop their own answers.
31. Curious, not judgmental.
Be fascinated, not frustrated. Be a giant question mark.
32. Post a picture of the Rich Uncle Pennybags.
As a reminder to monopolize the listening.
33. Post of a picture of an ear and a heart.
Because listening to someone is a form of loving that person.
34. You don't own the problem.
Resist the temptation to claim ownership of the other person's issue by trying to solving it too quickly, offering advice or assuming THEE answer.
35. WOW.
An effective response that acknowledges the other person, shows concern and (minimal) emotion; yet still keeps you fairly neutral.
36. Listening isn't a performance.
Careful.
37. Full body listening.
Listen with your eyes, arms, hands, fingers, legs; heart, mind and soul.
38. Post a cartoon or a picture of someone with HUGE ears.
It will make you laugh and remind you of this listening philosophy.
– – –
These listening reminders will accomplish three goals:
1. They will REMIND you … of the value of listening.
2. They will TEACH you … to become a better listener.
3. They will KEEP you … accountable to yourself and to the people you serve.
Start growing bigger ears today!
LET ME ASK YA THIS…
How do you remind yourself to become a better listener?
LET ME SUGGEST THIS…
Share your best Listening Reminders here!
* * * *
Scott Ginsberg
That Guy with the Nametag
scott@hellomynameisscott.com
…only 15 more days until NametagTV.com goes ON AIR!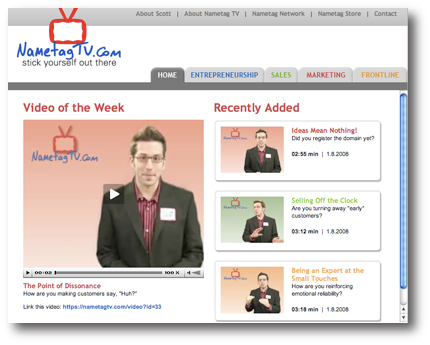 Bio
Author. Speaker. Strategist. Songwriter. Filmmaker. Inventor. Gameshow Host. World Record Holder. I also wear a nametag 24-7. Even to bed.
MEET SCOTT