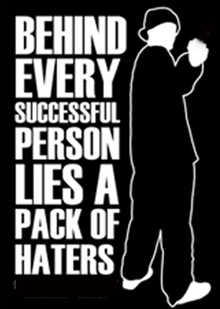 Today is day 2,443.
And lately, I've been thinking…
My nametag (for some strange reason) has always seemed to invite negative comments, snide remarks, criticism, hatemail, angry people and even a few death threats!
I know. I don't get it either. I'm trying to make the world friendlier for God's sake!
That's why I always remember what Albert Einstein said, "If at first your idea does not sound absurd, there is no hope for it."
Still, I often wonder what prompts a stranger to react in such a way. Especially in response to an idea that's clearly positive and friendly.
Ultimately, I've learned that when it comes to Haters, it usually says more about THEM than the person they hate.
What about you?
1. Ever had an idea people thought was crazy?
2. Ever been told to "tone down" your true self?
3. Ever felt completed rejected for doing nothing other than being yourself?
It sucks. Trust me, I've been there many, many times.
So, the challenge is twofold:
STEP 1: Shaking it off.
STEP 2: Figuring out WHY someone would respond to you in such a negative way.
The first step is easy.
It's all about ATTITUDE.
You just brush the invisible dust off your shoulder and say what Tony Montana would say in the movie Scarface.
"Dass-OK-man!"
(In your best mobster accent, of course.)
Because anything that kills your enthusiasm is the enemy.
The second step requires a little more work.
It's all about VALIDITY.
That is, deciding whether or not someone has the right to be so negative towards you.
In my experience, I've found seven common reasons why people are negative. NOTE: these don't just apply to nametags – they apply to ANYBODY trying to make a name for himself.
1. Jealousy. Here's an odd statistic: 99% of the criticism, hatemail and negative remarks I get for wearing a nametag are from MEN. Isn't that interesting? Women rarely seem have an issue with it. Maybe because men, as a whole, are more insecure? I'm not sure. But every time I speak to a new group of people, the overwhelming audience response to why MEN are the only ones who respond so negatively is, "Nah, they're just jealous." (Ironically, the ONLY people who ever come up and rip my nametag off are WOMEN. Isn't that weird?)
THINK ABOUT THIS: Why would someone be jealous of you?
2. Ignorance. Criticism always comes to those who stand out. And when humans don't understand something (or someone), there's a visceral response. That's why ignorance creates fear: it's a natural defense mechanism. People feel threatened and contaminated by something (or some-ONE) that they perceive as "different." Now, this doesn't mean ignorance is bad. Whereas stupidity is "not thinking," ignorance is simply "not knowing." You duty is to educate people.
THINK ABOUT THIS: What is it about you that people think is "different," but later learn is actually UNIQUE?
3. Personal stuff. If someone has no parade of his own, he will try to rain on yours. This will make him feel better about himself. REMEMBER: for some people, their only source of getting up is by bringing others down. Don't let 'em get to ya.
THINK ABOUT THIS: Next time someone seems to have a MAJOR issue with something minor, ask him, "Why is this so important to you?"
4. Mirroring. In my favorite book, The War of Art, author Steven Pressfield explains, "When people see others living their authentic lives, it drives them crazy because they're not living their own." Yes, the world truly is a mirror. And often times, people simply project their own issues onto you.
THINK ABOUT THIS: Is this person's criticism unjustifiable?
5. Losers. Seriously, if you have enough time in your day to go to someone's website, get his email address, then send him a two-page letter telling them what a loser he is for wearing a nametag, you have WAY too much time on your hands. Besides, if I'm such a loser, and my idea is so dumb, then why did I make an entire career out of it? And why are you on my website anyway? Seems a little contradictory, if you ask me.
THINK ABOUT THIS: Is it possible that some people are, in fact, losers?
6. Fear. Some people are just too afraid to be themselves and venture out on their own. They know they can't make it, so by sabotaging you, they selfishly fulfill the premise of, "If I can have it, nobody should!" Their goal is to use their doubts to reactivate your own, all for the sake of THEIR comfort, not yours.
THINK ABOUT THIS: When you work your butt off and become successful, people will be intimidated by your work ethic. Don't sweat it. Don't ever accept someone saying, "You're making me look bad." (Here is the complete list of 100 people not to listen to.)
7. Jerks. Some people are just mean to everybody. Period.
THINK ABOUT THIS: At least you're nice!
NOTE: I am not suggesting you ignore all criticism.
Criticism is healthy. Finding out where you suck is a MUST if you want to make a name for yourself.
But don't just sit there and take it like a punching bag.
Brush it off initially.
Validate it intelligently.
Act upon it appropriately.
And next time a Hater tries to bring you down, remember what my favorite author Julia Cameron says:
o In the history of the world, no statue has ever been set up in honor of a critic.
o A critic is a someone who knows the way but can't drive the car
o When people are afraid of being artistically diminished themselves, they may never be able to do anything but diminish you.
After all, if everybody says you're NUTS, you just might be onto something.
LET ME ASK YA THIS…
Why do YOU think people respond so negatively to others?
LET ME SUGGEST THIS…
Share your reasons here!
* * * *
Scott Ginsberg
That Guy with the Nametag
www.hellomynameisscott.com

Are you the luckiest person you know?
Watch Scott's interview on 20/20!