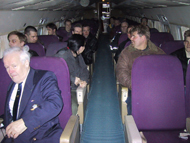 PICTURE THIS: you plop down next to a friendly guy on the plane.
After a brief greeting, he asks about your work.
"I'm an author," you say.
"Cool! What kind of books?" he asks.
So you tell him. And he becomes very excited. Obviously, he's a perfect reader for you.
"Wow, that sounds great," he replies. "My entire office needs to read your book! You wouldn't happen to have an extra copy in your bag, would you?"
"Oh, uh … no. Sorry," you say. "But I'm sure your local Borders has it in stock."
"Oh."
Yeah. "Oh" is right.
LESSON LEARNED: being in the right place at the right time does you no good…
Until you deliver VALUE.
That's one of the keys to sticking yourself out there: always having something to give.
As an author, I don't go anywhere without at least one of my books.
Because you never know whom you might meet.
You never know who might ask for one.
And you never know what business opportunities might arise by one.
Of course, this isn't just about authors.
This is about ANY entrepreneur, artist, solo practitioner, consultant, writer, speaker, performer or musician … who wants to make a name for himself.
Always have something to give.
See, people need visuals. They need proof that you're the real deal.
Unfortunately, first impressions don't take very long. That's why having something to give the perfect shortcut.
I remember a few years ago, I was chatting with a guy while waiting in line at Kinko's. Turns out he was an up-and-coming DJ.
When I asked him if he had any of his music handy, he said, "Sure, follow me…"
We walked over to his car, he popped the trunk, and this guy had five boxes of CD's ready to go!
"Here ya go! I always keep a few copies handy, just in case," he laughed.
Think that guy is going to be successful?
Absolutely!
Because he's always ready to pitch on a moment's notice.
Because he always has something to give.
See, Strategic Serendipity is about preparation.
And if you want to make a name for yourself, consider all the potential things YOU could be ready to give!
1. Philosophy cards
2. Tip sheets
3. Demo Videos
4. Copies of your CDs
5. Copies of your books
…all of these items deliver value, support your brand and enable a conversation to go from mundane to memorable.
So whether it's in person, on the plane or even waiting in line at Kinko's, remember this:
Being in the right place at the right time does you no good…
Until you deliver VALUE.
LET ME ASK YA THIS…
Do you always have something to give?
LET ME SUGGEST THIS…
Make a list of 10 potential freebies you could give away at a moment's notice. Try one a week.
* * * *
Scott Ginsberg
That Guy with the Nametag
---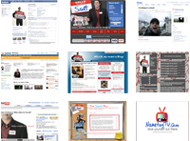 Are you a friend of The Nametag Network?
Read more blogs!
Rent Scott's Brain!
Download articles and ebooks!
Watch training videos on NametagTV!
Make a name for yourself here…
---