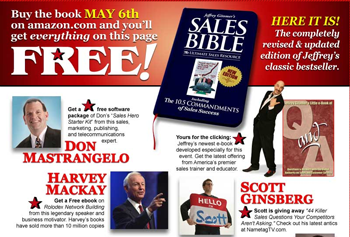 TODAY ONLY – Tuesday May 6th!
Buy Jeffrey Gitomer's The Sales Bible: NEW EDITION — The Ultimate Sales Resource on Amazon.com TODAY, and get hundreds of dollars of bonus items from Jeffrey and 40 other top business leaders around the world…including me!
Since the initial publication of The Sale Bible in 1994, Jeffrey Gitomer has raised himself into the position of sales powerhouse with huge success around an inventively packaged and content filled series of books.
His LITTLE BOOK SERIES™ has sold over two million copies worldwide. Jeffrey has taken the title that began it all, and completely revised it.
The Sales Bible: NEW EDITION, has been reworked, added to, rewritten, and has the look and feel of his other bestselling sales titles – complete with cartoons, a page marker, and Jeffrey's ALL NEW 10.5 Commandments of Sales Success.
This 300-page bible is THE must-have title for sales professionals who've already come to know and trust Jeffrey's inventive, irreverent sales wisdom through his LITTLE BOOK SERIES™. I've already devoured this book myself, and it is AWESOME.
So, BUY THE BOOK TODAY – MAY 6TH on Amazon.com, send your receipt to salesbible@gitomer.com and you win!
From me, you'll get this:

44 Killer Sales Questions Your Competitors Aren't Asking!
Learn the approachable sales language to help you get noticed, get remembered and get business!
You will ALSO receive hundreds of dollars worth of downloadable e-books, white papers, articles, audio MP3s, video MP4s, reports, and chapters of best selling books being offered by 40 other top sales, marketing, publishing, communications, public relations, and business growth leaders.
It's that simple, and that valuable.
For more details about the offer, go here!
To buy the book now, go here!
LET ME ASK YA THIS…
What's your favorite piece of Gitomer wisdom?
LET ME SUGGEST THIS…
Share it here!
* * * *
Scott Ginsberg
That Guy with the Nametag
scott@hellomynameisscott.com