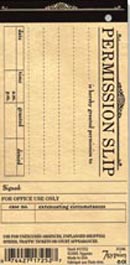 NOTE: be sure to read part 1 and part 2 of this post series before continuing!
– – –
Welcome back!
Today is our final post in the series about Building a Permission Asset.
Just to recap: we've already learned about what a permission asset is, how to asset your current status and tools for building it.
Now we're going to talk about the two most difficult challenges: PATIENCE and PROTECTION.
Yes. Building a permission asset takes time. LOTS of it.
See, notwithstanding our instant-gratification culture, your permission asset isn't something you just "get."
You can't download off iTunes. Or find it on Craig's List. Or buy it from some random college kid in your neighborhood.
It takes time. Work. Maintenance.
And most of all, patience. Because some people won't want to give you permission asset right away. And some people won't want to give permission EVER.
With that in mind, let's wrap things up with several patience and precautionary measures to protect your permission asset during the long haul:
1. Privacy. While giving their email address to you is technically "free," customers are still concerned about getting spammed. So, make certain people understand your intentions at the onset. Let them know you will NOT be sharing their information. Respect always wins.
REMEMBER: Attention is the most powerful form of currency.
2. Get it early. Whether it's in marketing (or a one-on-one conversation) you can never get permission too early. The biggest regret you will EVER have in marketing is, "Damn it! I should have been collecting people's emails sooner!" It's not too late – you can start TODAY.
REMEMBER: Broadcast your uniqueness, make the mundane memorable, turn strangers into friends, friends into FANS and fans into word of mouth. Now!
3. Think long term. Look upstream. Consider the lifetime value of ONE fan. Think about how many friends they could potentially tell. Most importantly, think about how valuable your relationship with them could potentially grow.
REMEMBER: There are no one-night stands with your permission asset.
4. Consistency. Whether your permission asset is supported by an ezine, podcast or blog, you MUST deliver value. So, remind your fans WHY they follow you. Also, ask for their input, ideas, feedback and comments. Maintain a continuous dialogue with them. Because:
The more involved they are, the more ownership they take.
The more ownership they take, the more people they tell.
And the more people they tell, the bigger your permission asset (and, ultimately, your following) grows.
REMEMBER: Consistency is far better than rare moments of greatness.
5. Gratitude. Because your permission asset is so valuable, and because a following is NOTHING without followers, make sure you regularly thank your fans how much you value their loyalty (aka, permission). Offer them specials and discounts. Go out of your way connect with them via email, phone, or if possible, in person!
REMEMBER: Practice proactive gratitude. That which you appreciate appreciates.
6. Leverage. Once your permission asset hits a critical mass (1,000, 5,000, 10,000, for example) you will earn more opportunities to leverage it. The bigger your permission asset is, the more you can ask people for.
REMEMBER: Some people on your list may buy at a later time, simply because you stayed in front of them. Leverage your increasing momentum.
7. Respect. A few years ago, I emailed the aforementioned permission guru, Seth Godin. I asked him what he thought the most important word in marketing was. His answer was, "Respect."
So, when it comes to your permission asset, never, ever, ever, ever, E-V-E-R disrespect or violate the trust of your fans. If they want off your list, respect their choice and gracefully remove them. Don't take it personally.
REMEMBER: R-E-S-P-E-C-T!!!
8. Value. Your content – be it text, audio or video – needs to be relevant, interesting, focused, smart, concise and remarkable. Most importantly, it needs to be delivered in a unique way. You need a voice. A lens. A thing. A philosophy.
I think author and blogger extraordinarine Guy Kawasaki said it best, "It's impossible to build community about mundane writing."
REMEMBER: YOU. ARE. A. WRITER.
9. Patience. Don't expect to get 500 subscribers in your first week. Have patience. Boost your list one fan at a time. The good news is, once you get past a certain number, you'll begin to grow exponentially.
But, the (sort of) bad new is, building your permission asset never ends. You're in it for the long haul. Better be passionate!
REMEMBER: There ain't no finish line.
– – –
NOTE: Even with all the tips, suggestions and ideas you've read in these past three posts, there's still one additional challenge to recognize: What if, no matter how hard you try, some people just WON'T give you permission?
Unfortunately, that IS going to happen. No matter what business you're in, no matter what type of permission asset you're building, some people just won't give it up.
AND MY THOUGHT IS: Respect that. All you can do is your absolute best to deliver value and be yourself.
If someone is hesitant to give you permission, persistently (but not annoyingly) remind them about the security, privacy and respect of doing so. Educate them about the value of giving you permission. Don't sell too much or too often and don't annoy or bother them.
If that doesn't work, back off. Don't take it personally. Perhaps YOU are not the right person to convince them. Perhaps, over time, they will be convinced or evangelized by an existing member of your permission asset.
"You still haven't subscribed to Janet's weekly ezine? Man, you're missing out! Last week's article saved me thousands of dollars!" says one of your raving fans.
If that (still) doesn't work, maybe it's time to let that person go and move on.
There are plenty of other fish in the Permission Sea.
– – –
So, as we come to the end of our three-day discussion, I wanted to share one final example.
This is my favorite illustration (no pun intended) of the power of building a permission asset.
Scott Adams.
You know, the creator of Dilbert!
He runs the most successful, most widely read and highest syndicated comic strip in the world.
o His comic strips are read by millions of people every day.
o He gets 200-300 comments PER POST on his daily blog. (Holy Technorati Batman!)
o He's published dozens of bestselling books.
o His line of Dilbert merchandise makes millions every year.
o His scores of fans rearrange their schedules just to come out to his book signings and events.
o His speaking fee is $50,000.
o He is the CEO of Scott Adams Food, Inc., maker of the Dilberito & Protein Chef.
o He won the National Cartoonist Society Reuben Award and Newspaper
Comic Strip Award.
o He received the NCTE George Orwell Award for Distinguished Contribution to Honesty and Clarity in Public Language.
o He's been in the rankings of the "50 Most Influential Management Thinkers" placing 31st in 2001, 27th in 2003 and 12th in 2005.
But here's the best part.
Scott Adams was the first syndicated cartoonist who published his email address on all his cartoons.
Initially, he did it in the hopes that people would email jokes to him.
Which they did.
Eventually, he started asking these people who emailed him if they wanted to occasionally hear from him via his an ezine.
Which they did.
WHICH MEANT: they gave Scott Adams permission.
WHICH MEANS: he built (and continues to build) his permission asset.
WHICH PROVES: he who has the biggest list (and, the best relationship with that list) wins.
LET ME ASK YA THIS…
How many people art anticipating YOUR marketing?
LET ME SUGGEST THIS…
Seriously, you need to read Seth's book.
* * * *
Scott Ginsberg
That Guy with the Nametag
scott@hellomynameisscott.com
…only 21 more days until NametagTV.com goes ON AIR!