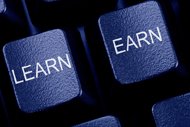 Show me a person who EARNS a lot, and I'll show you a person who LEARNS a lot.
Period.
Earning comes from learning.
BUT, HERE'S THE CATCH: The word "learn" derives from the Old English term, leornian, which means, "to cultivate."
So, there's a certain dedication inherent in the learning process.
Learning isn't just reading. Or listening. Or writing stuff down.
Learning is WORK. And it all starts with that moment … that epiphany … that exact point of reference in which you gain something new.
THEN … to truly and honestly embrace the essence of what's happening inside, around and TO you.
THEN … to patiently allow those little nuggets of wisdom to profoundly penetrate you.
THEN … to think on those things through some combination of writing, discussing and meditation; or whatever process of reflection you choose to practice.
THEN … to slowly get outside of yourself and begin to notice the application of those nuggets in the lives of others.
And ultimately, this makes you bigger.
So. Want to earn more? Learn more.
LET ME ASK YA THIS…
How many books did you read last month?
LET ME SUGGEST THIS…
For the list called, "194 Books in Scott's Success Library."
* * * *
Scott Ginsberg
That Guy with the Nametag
scott@hellomynameisscott.com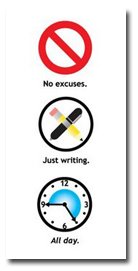 No time to write?
Can't finish that book?
Dog ate your last article?
Come to the St. Louis Writing Marathon!
No excuses. Just writing. All day.
I promise it will be the best $20 you'll invest in yourself all year.
Learn more at www.writingmarathon.com!