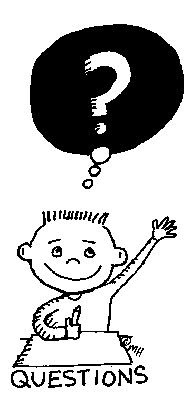 Questions are differentiators.
With prospects.
With customers
With total strangers!
So, if you want to become That Guy – and if you want to own the MAXIMUM amount of mindshare in your customers' minds – start by asking better questions.
Now, by "asking BETTER questions," I mean:
Asking dangerous questions.
Asking disturbing questions.
Asking dumb questions.
Asking guiding questions.
Asking judicious questions.
Asking killer questions.
Asking challenging question.
Asking penetrating questions.
Asking smarter questions.
Asking unexpected questions.
Asking upside-down questions.
Asking well-crafted questions.
Asking well-timed questions.
AND I PROMISE YOU: If you ask questions like THAT, your customers will form an impression of you as someone who is creative, intelligent, observant … and has BIG ears.
That will ENABLE them to buy from you.
That will ENTICE them to come back to you.
That will ENCOURAGE them to tell their friends about you.
Sound good?
Cool.
So, I suggest you start by making a list called "Top Ten Most Common Questions Asked by a Salesperson in My Field."
Whether it's during a sales presentation, over the phone or at a networking event, identify the types of questions every other salesperson just like you is asking their prospects.
Examples might include textbook, unoriginal questions like, "How much are you currently spending on…?" or "How happy are you with you present suppliers?"
HERE'S WHY YOU DO THIS: Knowing what questions your prospects are used TO and tired OF being asked is a powerful sales weapon.
Because now all YOU have to do is NOT ask those questions!
(Well, that's not all you have to do.) You ALSO need to keep an arsenal of killer questions yourself. And those questions need to be easily accessible.
So, that leads to the next step: creating another list.
Title this one, "Killer Sales Questions My Competitors Aren't Asking."
Think of the best, most creative and most original sales questions you've ever used or heard.
Questions that made customers smile.
Questions that caused customers to stop in their tracks.
Questions that enabled customers to share their needs and wants.
MY SUGGESTION: Spend a few hours searching through your notes, old emails, training manuals, on Google and in the books of your personal success library for the BEST questions you can find.
Over time, edit, update and review your list regularly. Keep it handy on your laptop, bulletin board and in your briefcase. (Or, if you want to be supremely dorky and O.C.D. like me, type out your best questions on a laminated card and keep it in your wallet for easy access.)
THE POINT IS: Cherish that list. It will become a powerful tool for differentiating yourself that will only get stronger over time.
And it will help you make sales forever.
And soon, people will be asking YOU for YOUR best sales questions!
Now, you probably noticed that the title of this article was "13 Killer Sales Questions Your Competitors Aren't Asking."
Well, I am a man of my word.
So, to finish up today's post, I'm going to share my personal list with you.
NOTE: These questions were purposely left incomplete.
I did this so YOU could individually tailor these questions to your industry, customers and products.
So, think of them more as "prefixes" to your own unique questions. Fill them in however you wish. And feel free to use and share them with customers and coworkers today!
13 Killer Sales Questions Your Competitors Aren't Asking
1. How are you making it difficult for your customers to…?
2. How are you making it easy for your customers to…?
3. How many customers are you losing by…?
4. What are the benefits you'd like to see as a result of…?
5. What are the bottlenecks in…?
6. What are the three biggest mistakes being made by…?
7. What do you think makes the difference between…?
8. What excuses are preventing you from…?
9. What one word do you want customers to use when describing…?
10. When someone comes to your website, what's the ONE thing…?
11. When someone walks into your store, how do you want them…?
12. When was the first occasion you noticed…?
13. When was the last time you actually…?
REMEMBER: Questions ARE differentiators.
LET ME ASK YA THIS…
What's your #1 killer sales question your competitors aren't asking?
LET ME SUGGEST THIS…
Post your question here!
* * * *
Scott Ginsberg
That Guy with the Nametag
scott@hellomynameisscott.com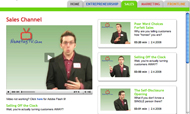 How many unsolicited referrals did YOU get this week?
Tune in to The Sales Channel on NametagTV.com!
Watch video lessons on enabling customers to buy!