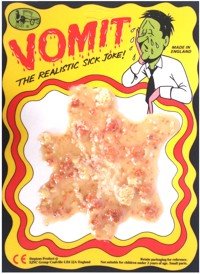 Blaaaargh.
That's the sound of most salespeople's follow-up practices.
No originality + No engagement + No valid reason for following up = No sale.
Let's look at five unremarkable follow up approaches (vomit), and replace them with five unforgettable approaches (value):
VOMIT: "Have you gotten a chance to look over my proposal?"
VALUE: "I just found a fascinating article about your #1 competitor…"
LET ME ASK YA: Do you have Google Alerts on your customers' competitors? Do you use Google Alerts?
VOMIT: "Did you have any questions about…?"
VALUE: "Here are the answers to the top ten questions my customers usually ask me…"
LET ME ASK YA THIS: Do you have a PDF of the most frequently asked questions by your customers, along your answers to them? Is it posted on your website? Do you even have a website?
VOMIT: "Did you want to go ahead and move forward on this project?"
VALUE: "I just wrote a blog post using your company as an example!"
LET ME ASK YA THIS: How many days did you blog last week? Do you even have a blog?
VOMIT: "Have you and your wife come to a decision yet?"
VALUE: "I'm going to be giving a free investment seminar this Wednesday at the local Chamber of Commerce – would you and your wife like to attend as my guests?"
LET ME ASK YA THIS: When was the last time you gave a public presentation? How many customers and prospects did you invite to watch you?
VOMIT: "Just wanted to check up and see how everything was going…"
VALUE: "I just finished my latest book called '101 Money Mistakes Made by Smart Businesspeople.' Would you like an autographed copy?"
LET ME ASK YA THIS: Is everything you know written down somewhere? What did you write today?
VOMIT: "Have there been any changes in your company's IT system in the last six months?
VALUE: "I just finished recording a two-minute video about the biggest technology mistakes made by smart companies. Check it out!"
LET ME ASK YA THIS: How are you incorporating video into your sales process? How many value-driven, fun, cool videos do you have posted online?
Value or Vomit.
The choice is yours.
NOTE: Blaaaargh is my new favorite word, thanks to my world-class designer, The Jackie.
LET ME ASK YA THIS…
Do your follow up approaches scream Blaaaargh* or Brilliant?
LET ME SUGGEST THIS…
For the list called, "134 Questions Ever Salesperson Should Ask," send an email to me, and I'll send you the list for free!
* * * *
Scott Ginsberg
That Guy with the Nametag
Author, Speaker, Coach, Entrepreneur
scott@hellomynameisscott.com
Sick of selling?
Tired of cold calling?
Bored with traditional prospecting approaches?
Buy Scott's new book and learn how to sell enable people to buy!
Pick up your copy (or a case!) right here.