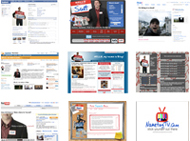 May 12, 2007 9:23 PM
AUTHOR. Scott is the author of thirty books on approachability, marketing, branding, leadership, creativity and business strategy. Download all of them right now, for free here.
SPEAKER. Scott travels around the world to deliver presentations, breakout sessions, keynote speeches and seminars to tens of thousands of people each year. Companies and organizations worldwide have been successfully implementing his programs on approachability since 2003.
DIVERSE CLIENTELE. Since 2003, Scott has worked with large companies like STAPLES, VERIZON Wireless, Boeing, Prudential Financial, UniGroup, Coldwell Banker, Gundaker Realty, Leo Burnett, Manpower and Hyatt Regency. He's and also worked with organizations like United States Jaycees, International Association of Workforce Professionals, International Cemetary & Funeral Association, American Society of Association Executives, Meeting Professionals International, National Association of Personnel Services, School Nutrition Association, Word of Mouth Marketing Association and The YMCA of America.
THE NAMETAG GUY. Scott is the only person in the world who wears a nametag 24-7 to make people friendlier. (In case you're wondering, he has a nametag tattooed on his chest for certain occasions.) While transforming his simple idea into a business, his adventures have earned him recognition as "The World's Foremost Expert on Nametags" and secured a spot in Ripley's Believe it Or Not!
COLUMNIST. Scott is a regular contributor to a variety of publications. His conversational, content-rich articles have appeared in hundreds of online and offline publications worldwide. Also, his work has been reprinted in dozens of textbooks and resource guides.
MEDIA EXPERT. Dubbed as "The Authority on Approachability," Scott is regularly interviewed by various online, print, radio and TV media for his unique expertise. He has been featured in hundreds of outlets such as 20/20, CNN, USA Today, The Wall Street Journal, Inc. Magazine, The Associated Press, FastCompany, The Washington Post, Paul Harvey, The CBS Early Show and Headline News. He even wrote "The Quiz" on approachability for COSMO!
NAMETAG NETWORK. Scott's award winning, content-rich websites get as many as 35,000 hits a day from readers and audience members around the world. His ubiquitous web presence and powerful platform set the standard for entrepreneurs and marketers in his field, and have earned him an surprising amount of credibility seeing that he's just some guy who wears a nametag every day.
BLOGGER. In 2007, Alexa and Technorati voted HELLO, my name is Blog! as a Top 100 Business Blog on the Web. Every day, Scott's posts are shared and linked around the web, drawing millions of readers worldwide since 2003.
COACH. Scott's business coaching program is called Rent Scott's Brain. Part coach, part consultant, part idea midwife, Scott facilitates creative breakthroughs with writers, entrepreneurs and other creative professionals who want to GET noticed, GET remembered and GET business.
When he's not traveling around the world speaking to companies, associations and organizations, Scott lives in Brooklyn where he attempts to talk to strangers.
* * * *
---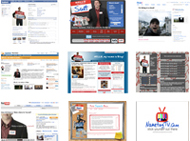 Are you a friend of The Nametag Network?
Read more blogs!
Rent Scott's Brain!
Download articles and ebooks!
Watch training videos on NametagTV!
Make a name for yourself here…
---
You Might Also Like...
Bio
Author. Speaker. Strategist. Songwriter. Filmmaker. Inventor. Gameshow Host. World Record Holder. I also wear a nametag 24-7. Even to bed.
MEET SCOTT