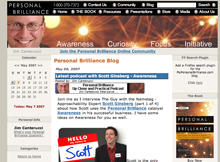 May 07, 2007 4:45 PM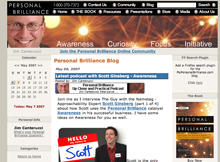 GREAT NEWS!
I just finished recording a four-part podcast about personal brilliance with my buckeye bud Jim Canterucci.
The first episode, "Up Close and Practical, Part 1" is available here!
Over the next month, Jim will be releasing all four episodes. Each podcast addresses a specific attribute of personal brilliance. Here's a schedule/outline of what we're going to cover:
Episode 1: Awareness – May 6
*How a simple idea can become a business.
*Scott's three components of success and how it relates to relationships
*How to be the world's expert on yourself and your goals.
*How the "daily appointment with myself" makes an impact
*Consciousness of environment – How to break the silence pattern of those we meet.
*The tip for living in our fast-paced A.D.D society
*Visual habits and how they relate to solving the problem at hand
*What's in your wallet? Not what you think.
*How to reach a deeper level of connection.
*What is the Law of Approachability?
*CPI – Common Points of Interest explained
Episode 2: Curiosity – May 13
*Scott's foundational "What If?"
*The three types of questioning patterns that lead to innovation.
*The 20-minute rule of creativity.
*The best question to break a pattern and understand the framework of the scenario.
*How to maintain congruency between your philosophies and your actions.
*How to break the small talk barrier – 3 important questions.
*How "writing it down" solidifies your learning.
Episode 3: Focus – May 20
*What filtering means to focus.
*Why a board of directors is important for everyone.
*Some keys to thinking like a CEO.
*Perspective – become the 'go to' person.
*Focus and branding.
*How focus can identify the gap that is open for innovation.
*Scott's favorite branding resource.
*How to break through in a crowded marketplace.
*Being 'that guy' as an approach. What it means to be the go to person. Two important questions.
*Do you own a word?
*How to get them to come to you.
*How to create and use a visualization wall.
Episode 4: Initiative – May 28
*How one blog post led to 33 new clients and over $100k in revenue.
*The paradox of inspiration.
*"Plucking" to create value.
*The story of Weston – an action hero.
LET ME ASK YA THIS…
What makes someone brilliant?
LET ME SUGGEST THIS…
Share your characteristics here!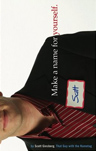 * * * *
Scott Ginsberg
That Guy with the Nametag
Download Scott's new book!
Right here, right now, for FREE, no strings.
add to del.icio.us * digg it! * email this post
You Might Also Like...
Bio
Author. Speaker. Strategist. Songwriter. Filmmaker. Inventor. Gameshow Host. World Record Holder. I also wear a nametag 24-7. Even to bed.
MEET SCOTT