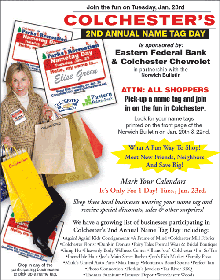 January 23, 2007 11:45 AM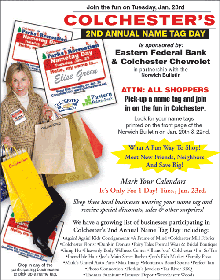 For the second year in a row, Colchester, CT is celebrating Annual Nametag Day!
Jason Cohen and I (mainly Jay) started this holiday back in 2006.
This year we actually got a decent amount of local press, thanks to all the hype around my new friend Joe Porcelli from Neighbors for Neighbors who (unrelated, believe it or not) wore a nametag every day for the past year. Way to go Joe!
IF YOU LIVE IN COLCHESTER
In order to make it as easy as possible for people to get involved, the Wyndham Price Agency and the Norwich Bulletin are both providing free nametags, which will be available for pickup Thursday through Tuesday, January 18th – 23rd, at many locations around town, including Colchester Parks & Recreation and a number of local businesses.
Also, this is pretty cool:
The Norwich Bulletin will attach a fantastic nametag ready to use right on their front page! There will also be a complimentary edition of the Norwich Bulletin delivered to all non-subscribers in Colchester. Everyone in Colchester will receive a nametag and a Norwich Bulletin on either January 20th or January 22nd.
Nametags and special promotions will be available at many supporting businesses. See the growing list below!
The fun does not end there! Colchester Parks & Recreation will be hosting a wrap up Nametag Day event on Tuesday, January 23rd from 6:00 p.m. to 7:30 p.m. at the Colchester Youth Center located on Norwich Ave. Come and share your unique experiences of wearing the nametag for a day and meet new people and join us for some "getting to know you" type activities!
Way to go, Colchester. Hopefully more cities will follow suit!
LET ME ASK YA THIS…
Would you and your town want to participate in Annual Nametag Day?
LET ME SUGGEST THIS…
If you'd like to be a participating city for Nametag Day '08, please contact Jason Cohen at Colchester Parks & Recreation.
* * * *
Scott Ginsberg
Author/Speaker/That Guy with the Nametag
www.hellomynameisscott.com
Bio
Author. Speaker. Strategist. Songwriter. Filmmaker. Inventor. Gameshow Host. World Record Holder. I also wear a nametag 24-7. Even to bed.
MEET SCOTT