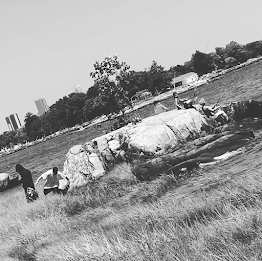 August 04, 2020 4:22 AM
James tells us in the scriptures:
We are merely a vapor like a puff of smoke a wisp of steam from a cooking pot, which is visible for a little while and then vanishes into thin air.
As such, why squander what time we do have being miserable? Life is about optimizing for joy, not climbing a ladder.
Our goal is to take full advantage of, rearrange our life for, and modify our experience around, that which makes us feel more alive. Without justification, without shame, without permission and without regret.
Allow me to list a few of my personal favorites.
Laughing out loud at cheesy jokes until my face hurts.
Taking pictures of reflective puddles on the street that most people ignore.
Singing karaoke at the top of my lungs on the commute to work.
Watching a movie and taking furious notes on the best lines in the script.
Keeping a running list of ridiculous names of rock bands that will never exist.
Ordering anything on the menu that has the word diablo in the title.
Making whimsical purposeless art that gets trashed immediately.
Stopping my workday to watch a music video that makes me weep.
Indeed, true happiness often comes in small grains. Keep pulling your triggers for joy, as my therapist would say. Keep building a fulfilling life on the foundation of our true nature. Engage in the activities that are uniquely appealing to you.
What if you stopped living life out of a sense of obligation and start optimizing for joy instead?
It may sound overly mathematical, but approaching fulfillment quantitatively is quite helpful. It's a formula. We can literally train ourselves to spend as little time as possible on things we didn't care about, that way we no longer have to feel guilty about spending time on the things that we do care about.
The hard part is the permission. Being able to announce to ourselves, fuck it, it brings me joy.
Not to mention the trust. Knowing that our happiness is the best gift we can give the world.
But once we solve that equation, define joy for ourselves and seek it in our own way, life becomes a whole lot lighter.
Are you the kind of person who always seems to wrest joy out of the most unfortunate circumstances?
Bio
Author. Speaker. Strategist. Songwriter. Filmmaker. Inventor. Gameshow Host. World Record Holder. I also wear a nametag 24-7. Even to bed.
MEET SCOTT