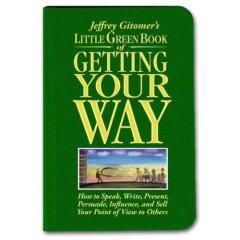 April 24, 2007 1:09 PM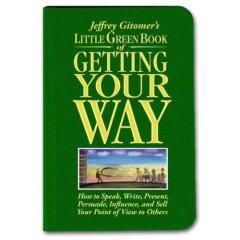 Gitomer's back!
His new book, The Little Green Book of Getting Your Way hits the stores today!
I've already read it, and it ROCKS.
A few excerpts I liked:
*Being a person of influence means that you have a reputation, character, credibility and stature enough that people will take your message seriously.
*Practice with passion. If you don't love what you do, practicing will be a chore. If you love it, practicing won't just be fun – it will be something you look forward to.
*Writing becomes persuasive when others are willing to act on, or coment on, what you've written.
*Allow the other person to feel a valid reason for your persistence. If they do, they will embrace you rather than avoid you.
The Little Green Book of Getting Your Way is the newest addition to Jeffrey's best selling Little Book Series, and gives you the critical tools you need to speak, write, present, persuade, influence, and sell your point of view to others.
HERE'S THE BEST PART…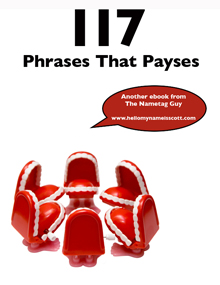 Buy the book on Amazon.com TODAY and get hundreds of dollars of free stuff from Jeffrey and 33 other top business leaders around the world… including me!
I've donated my latest ebook 117 Phrases That Payses.
BUY THE BOOK TODAY – APRIL 24 on Amazon.com, send your receipt to myway@gitomer.com and you win!
You will receive hundreds of dollars worth of downloadable e-books, white papers, articles, audio MP3s, video MP4s, reports, and chapters of best selling books being offered by dozens of sales, marketing, publishing, communications, public relations, and business growth leaders.
It's that simple, and that valuable.
For more details about the offer, go here!
To buy the book now, go here!
You Might Also Like...
Bio
Author. Speaker. Strategist. Songwriter. Filmmaker. Inventor. Gameshow Host. World Record Holder. I also wear a nametag 24-7. Even to bed.
MEET SCOTT