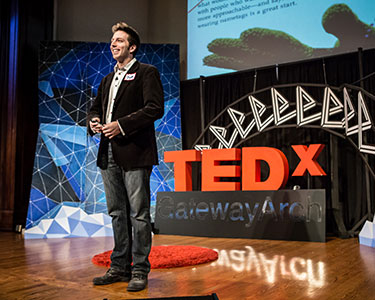 SHORT VERSION
What happens when you wear a nametag twenty-four seven? Even to bed?
Just ask Scott Ginsberg. In the beginning, it was just a gimmick to make friends. But soon, his crazy idea didn't seem so crazy. Scott's social experiment went viral. Multiple times. And the nametag story has now evolved into an urban legend, world record and a profitable enterprise.
Since 1999, Scott Ginsberg has profitably launched 47 books, 10 musical albums, 3,000 articles, 600 speeches, 88 training videos, 5 software applications, 2 concert documentaries, 1 animated folk rock opera, 1 product development and innovation podcast and card game, and a globally recognized brand.
LONG VERSION
Creativity is my gift. Commitment is my sword. Interaction is my fuel. Music is my healer. Sobriety is my drug. Laughter is my language. Love is my answer. Meaning is my religion.
I wear a nametag 24-7. Just for fun. Been doing it since 2000. I secured a world record in Ripley's Believe It Or Not.
And yes, I got the tattoo. MSN Living called it the 5th worst tattoo of all time. I also flashed The Today Show.
I wrote and published 47 books on human interaction, marketing and business strategy. You should buy them.
I delivered over 600 speeches to a variety of companies, schools and organizations. Still speak around the world every year. Never the same talk twice. Watch tons of clips here.I gave a TEDx talk.
I run a mentoring, coaching and consulting program called Rent Scott's Brain.
I create brandtags. These identity artifacts help companies make their mission more than a statement.
I publish this award-winning blog. Been writing it since 2002.
I founded Prolific, the world first system for Personal Creativity Management (PCM)
I produce albums and offer a variety of musical services under my own record label.
I write, produce, direct and score music film. Tunnel of Love was first, Eyes Full of Dreams was next and Head Up, Heart Higher is the latest.
I am the creator and host of Steal Scott's Ideas, the product development and innovation gameshow.
I live in Park Slope, Brooklyn.
I am a community leader and daily practitioner at Yoga Tribe Brooklyn
Bio
Author. Speaker. Strategist. Songwriter. Filmmaker. Inventor. Gameshow Host. World Record Holder. I also wear a nametag 24-7. Even to bed.
MEET SCOTT