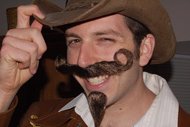 What a month.
Today is Halloween, and I'm pooped.
Just finished a series of hospitality training programs in Dodge City, Kansas. I'm off to Portland now to see some old friends, so, for the first time in my life, I can LITERALLY say, "I'm gettin' the heck outta Dodge" and actually mean it!
Sweet.
Anyway, I'm taking today off. So, here's a spook-tacular list called 101 Things I Learned in October of 2008. Enjoy and Happy Halloween!
1. Abolish excuse barrages.
2. Abolish your intentionality.
3. About, not from.
4. Absorb musical dissonance.
5. Absorb the lessons.
6. Accept internal resistors.
7. Answers are overrated.
8. Answers WILL emerge.
9. Appreciation accelerates accomplishment.
10. Are you undercharging?
11. Trust accelerates growth.
12. Articulate what's occurring.
13. Aspire to grow.
14. Aspire to serve.
15. Attract quality people.
16. Become incredibly selfish.
17. Become unconditionally constructive.
18. Boring organizations fizzle.
19. Heretics must believe.
20. Build enduring peace.
21. Cheer people on.
22. Jot down thought-starters.
23. Contradiction invites defensiveness.
24. Counteract the sabotage.
25. Crisis is creative.
26. Crisis refines us.
27. Curious is punished.
28. Curious people count.
29. Don't lecture continuously.
30. Drop your cares.
31. Educate customers continuously.
32. Education never stops.
33. Elevate your genre.
34. Encourage truthful self-expression.
35. Endeavor to live.
36. Engage the visitor.
37. Enter the pain.
38. Escalate your giving.
39. Evaluate your sights.
40. Evolve AND develop.
41. Examine, without judgment.
42. Express inner music.
43. Faith is underrated.
44. Feedback is overrated.
45. Follow your fantasies.
46. Followers or employees?
47. Foster the good.
48. Eliminate the bad.
49. Great ideas spread.
50. Hate is death.
51. Forgiveness is life.
52. Have sound self-value.
53. Honest fosters courage.
54. Honesty is appealing.
55. Honesty promotes authenticity.
56. Hope reveals ideals.
57. Hope revitalizes visions.
58. Individualize you must.
59. Internet eliminates geography.
60. Is this solvable?
61. Judgments are blocks.
62. Learn self-centering skills.
63. Leave a trace.
64. Lessons, not mistakes.
65. Make a ruckus.
66. Make direct requests.
67. Make goals value-based.
68. Marketplaces reward innovation.
69. Motivate, connect, leverage.
70. Obey noble impulses.
71. Open readers' eyes.
72. Pain obliterates aliveness.
73. Reactivity erases choice.
74. Reframe your resistance.
75. Hope renews dreams.
76. Regain lost ground.
77. Religion is overrated.
78. Repaint better angels.
79. Responsibility, not reactivity.
80. Revive precious memories.
81. Shake yourself awake.
82. Share your inklings.
83. Sharing IS giving.
84. Sharing is unifying.
85. Shift inner conversations.
86. Slow everything down.
87. Smash destructive idols.
88. Stop silently rehearsing.
89. Strengthen your foundation.
90. Stretch yourself further.
91. Tolerations consume energy.
92. Tribes, not factories.
93. Validate client concerns.
94. Waiting doesn't pay
95. Who coaches you?
96. Honesty is attractive.
97. Winners have coaches.
98. Witness, not manipulator.
99. Writing changes everything.
100. Writing transforms pain.
101. Writing untangles threads.
LET ME ASK YA THIS…
What lessons did you learn in October?
LET ME SUGGEST THIS…
For a copy of my Top 100 Self-Consultative Questions, send an email to scott@hellomynameisscott.com and I'll send you the list for free!
* * * *
Scott Ginsberg
That Guy with the Nametag
scott@hellomynameisscott.com
Who's telling their friends about YOU?
Tune in to The Marketing Channel on NametagTV.com!
Watch video lessons on spreading the word!