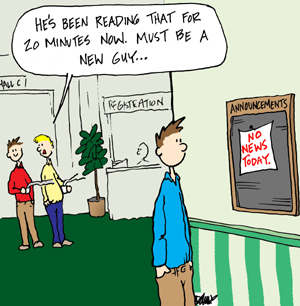 When you make yourself uncomfortable, you grow the most.
As a person.
As a professional.
When you make yourself uncomfortable, you learn the most.
About others.
About yourself.
About the world.
When you make yourself uncomfortable, you expand the most.
Because you meet new people.
Because you experience new things.
SO, THE BIG QUESTION IS: Are you practicing intentional discomfort every single day?
Me? I'm kind of a discomfort junkie.
See, I wear a nametag every day. Wherever I go.
(Been doing it non-stop for seven years now.)
And I've probably learned the most, grown the most and experienced the most simply by sticking myself out there.
Of course, you don't need a nametag. Approachability comes in many forms.
So, if you're a regular attendee to association meetings, networking events, company celebrations – even church or temple – here's a list of eight ways to step out of your comfort zone:
1. Be someone's first friend. If you notice a new member, congregant, student or employee, be the first to approach him. Satisfy his basic psychological need of acceptance by simply saying hello.
LET ME ASK YA THIS…
Do you remember your first friend?
2. Be a greeter. Even if you're not on the welcome committee, first impressions team or hospitality squad, be a greeter anyway. And don't just greet people within twenty feet of the door and within twenty minutes of the start of the meeting. REMEMBER: consistency is far better than rare moments of greatness. Everyone is a greeter.
LET ME ASK YA THIS…
When was the last time you were greeted by a non-greeter?
3. Third party intros. When you meet someone new, introduce them to someone else you know. Make sure to use a "Connector Line" to spark interest and keep the conversation alive: "Hey Mike, have you met Randy yet? He was just telling me about the Stones concert from this weekend!"
LET ME ASK YA THIS…
Are you including new people into your conversations?
4. Park in the back; sit in the front. Literally and metaphorically. Make small sacrifices so The New Guy, first timers and solo rollers so they can enter your meeting or organization with ease and comfort.
LET ME ASK YA THIS…
Are you willing to make yourself uncomfortable so a new person isn't?
5. Embrace the outsiders. Keep your eyes open for people who aren't being included. Watch for the individuals who seem lost, have wandering eyes, sit alone or "pretend" to be busy with something. You never know, they could be pretty cool! Take the first step to get to know them.
LET ME ASK YA THIS…
Do you remember when you were an outsider and someone embraced you?
6. Sit with the wrong company. Next time you attend a meeting or networking event, don't sit with five people you know and work with every day. Find a table with a few open seats and a bunch of strangers … and have a seat! Avoid the temptation to stay within your group.
LET ME ASK YA THIS…
How can you expand your network by sitting with everyone you know?
7. Stay late. Next time your meeting, workday or event concludes, stick around. Look for new people. Ask them, "So, what'd you think of our little group?" "Did you have fun?" or "How was your first day?" Make yourself physically available (openness of personal space) and personally available (openness of mind and heart).
LET ME ASK YA THIS…
If you had lots of questions on your first day, wouldn't YOU appreciate it if someone stayed late to answer them?
8. Extend the event. If there's a particular person you connected with, offer to keep the event alive. Invite her to join the after-party, or make yourself available for a personal "debriefing." NOTE: this isn't something you should to do all the time. Respect yours and other people's time. However, if it's appropriate, setting aside a chunk of time to answer questions, offer insider information or address concerns will be HUGELY appreciated.
LET ME ASK YA THIS…
Don't YOU like being invited to the afterparty?
NOTE: there IS a flip-side to all of these examples: be mindful of yours and other people's boundaries. Nobody should fully give his entire self or time to every person he meets. Practice discretion, not snobbery. And remember, a "yes" to something or someone is always a "no" to another.
Still, stepping out of your comfort zone (cliche as it may sound) is a valuable activity.
And it's not just "something you do."
It's a way of life.
It's a way of business.
It's a way of thinking.
Most importantly, it's a way of learning.
Practice intentional discomfort today.
LET ME ASK YA THIS…
How did you step out of your comfort zone today?
LET ME SUGGEST THIS…
Share your best comfort zone learning experience here!
* * * *
Scott Ginsberg
That Guy with the Nametag
www.hellomynameisscott.com

Are you the luckiest person you know?
Watch Scott's interview on 20/20!