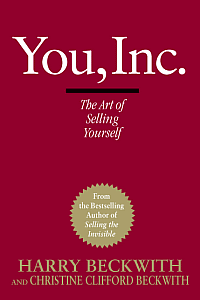 February 22, 2007 1:43 PM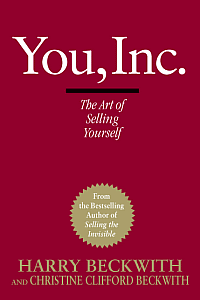 I read about three books a week.
Most of them are good. Some suck. Some are great.
But every once in a while, I read a book that's UNBELIEVABLE.
(Which is a lot coming from a compulsive reader who's also an author. Guess I'm a tough critic.)
The book I speak of is called You, Inc. by Harry Beckwith.
I'm not going to do a review of this book. I think reviews of anything – cd's, movies, books, bars – skew people's opinions. So I'm just going to quote it:
1. People tip restaurant servers the most when that severs makes them feel good.
2. Are you a company that your competitors envy?
3. People don't gather data to make their decisions, they gather data to justify their decisions.
4. A first impression is often the final decision.
5. The more you learn, the more people you can engage.
6. How does your past answer clients' needs now?
7. People's heads go nowhere until their hearts lead them there.
8. We buy how good you are at who you are.
9. Welcomes not only begin a relationship well, but frame the entire experience.
10. Establish common ground by STANDING on common ground. Get off the stage.
11. If it doesn't make you a little uncomfortable, it's not an idea.
12. You often cannot see the lines, but you cannot miss the dots.
13. Nobody benefits when someone is in the wrong place.
14. People aren't loyal to companies, they're loyal to people.
15. In choosing what to wear, your first thought should be not to impress or intrigue, but to put the other person at ease.
16. Instead of asking, "What do you do?" ask "What is your role there?"
17. Give your time lavishly to people who give, and avoid those who take.
Thanks, Harry.
LET ME ASK YA THIS…
Read any good books lately?
LET ME SUGGEST THIS…
Post a few quotes (not a review) of one of those books here!
* * * *
Scott Ginsberg
Author/Speaker/That Guy with the Nametag
www.hellomynameisscott.com
Bio
Author. Speaker. Strategist. Songwriter. Filmmaker. Inventor. Gameshow Host. World Record Holder. I also wear a nametag 24-7. Even to bed.
MEET SCOTT