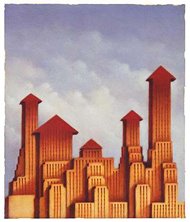 October 09, 2008 7:58 PM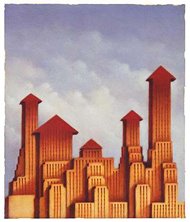 There is nothing more powerful than a question.
A question can ENABLE learning.
A question can PREDICT the future.
A question can EXPLODE people's brains.
A question can CRACK open a new world.
A question can ENLIST your creativity.
A question can SEND you off to the races.
A question can CUT deeply, yet playfully.
A question can VISUALIZE ideal conditions.
A question can EMPOWER others to turn inward.
A question can FORCE you to confront yourself.
A question can FUNCTION as that little nudge, push, tipping point or last straw you needed.
In my experience as a writer, speaker, coach and entrepreneur, the most important moments in my career have revolved around asking myself specific, profound questions.
Questions that shifted my paradigm.
Questions that changed my business model.
Questions that doubled and tripled my annual income.
Here are the Top Ten Questions That Changed My Business Forever:
1. What did you write today? Not just because I'm a writer, but also because writing is the basis of all wealth.
2. Is everything you know written down somewhere? My customized Content Management System was built on this question. Because if you don't write it down, it never happened.
3. Is what you're doing RIGHT NOW consistent with your #1 goal? This question kept me focused more than anything. I wrote it on a sticky note and kept it in a visible location on my desk. Made me a LOT of money.
4. Now that I have this, what else does this make possible? The ultimate leverage question. Helps you kill two stones with one bird in any situation.
5. If everybody did exactly what you said, what would the world look like? My mentor shared this question with me as a foundation for creating my own Personal Philosophy, my own Theory of the Universe. Kept me focused and congruent in all my endeavors.
6. What is your #1 income producing activity? It's simple: once you figure out this answer to this question, you just go and DO that activity. All day. Everything else is a waste of time, money and energy.
7. What personal skills have I not tapped into yet to build my business and/or add value to my customers? Helps you add more value to yourself and others. Taps into that which is natural and beautiful and true and exploits it in the service of your purpose.
8. What's next? Like a shark, if you don't swim, you die. Gotta keep moving. Always thinking about what else is to come.
9. Am I making a living or growing my business? Provides a powerful understanding of your long-term goals. Focuses on equity and wealth, not income.
10. How can I change the rules so I can win at my own game? This is about becoming a category of one. Eliminating the competition by not having one. Blocking a punch by not being there.
REMEMBER: Because it's not about the answer but what the answer POINTS to.
LET ME ASK YA THIS…
What questions changed your business forever?
LET ME SUGGEST THIS…
For the list called, "22 Questions to Sidestep Entrepreneurial Atrophy," send an email to me, and I'll send an email to me?
Scott Ginsberg
That Guy with the Nametag
scott@hellomynameisscott.com
* * * *
Never the same speech twice.
Always about approachability.
Watch The Nametag Guy in action here!
Bio
Author. Speaker. Strategist. Songwriter. Filmmaker. Inventor. Gameshow Host. World Record Holder. I also wear a nametag 24-7. Even to bed.
MEET SCOTT