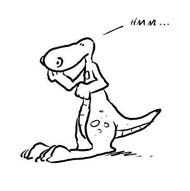 Entrepreneurs need to be aware of seven truths, trends and realizations.
I call it "The IF Factor."
Here goes…
1. IF … everybody loves your idea, you're doing something wrong.
Stop trying to please everybody. Stop trying to be so well rounded. Stop trying to appeal to the masses.
Pick a lane, narrow your focus and start polarizing some people. It won't kill you.
REMEMBER: There's a LOT of customers out there.
2. IF … everybody says you're crazy, you might just be onto something.
They're just jealous. Or threatened. Or ignorant. Don't let the haters get you down. Some people just aren't worth listening to.
Neitzche said: "And those who were seen dancing were thought to be crazy by those who could not hear the music."
REMEMBER: People thought Einstein, Edison, Lambert, Ford, Jobs and Gates were crazy! And last time I checked, those guys turned out pretty good.
3. IF … you're not pissing off (some) people, you're not doing your job.
Make some waves. Controversy is good. Don't be afraid to take a side. Have the courage to stand out and stand up for what you believe.
REMEMBER: Feather-ruffling and boat-rocking are good things.
4. IF … at first your idea doesn't sound absurd, there is no hope for it.
Think of all the great ideas, inventions and innovations that were once laughed at or thought stupid and inefficient: the airplane, the personal computer and the cell phone.
Ha! It's human nature. That which stands out gets criticized.
As Peter Drucker said, "Anything truly new that looks big is indeed usually distrusted."
REMEMBER: If people say your idea is far-fetched, consider it a compliment. An omen. A sign of good things to come.
5. IF … nobody's trying to steal, copy or parody your idea, it's probably not that good.
The entire soft drink industry was created because everybody kept trying to steal Coke's recipe.
What are people trying to steal from you?
REMEMBER: The only thing worse than someone trying to steal your idea is NOBODY WANTING to steal your idea.
6. IF … you can't explain it to a five year old, it's not simple enough.
We live in a hyperspeed, A.D.D., instant gratification culture. People don't have the time or attention to sit and figure out what you're selling.
You need to (kindly) punch them in the face.
You only have a few seconds and a few words. A kindergartener should be able to tell her friends about your idea.
REMEMBER: Customers crave simplicity!
7. IF … people aren't talking about your idea, you're in trouble.
Plain and simple: businesses that get talked about get more business. Remarkability wins. And word of mouth is the most authentic, effective and powerful form of marketing in the world.
What's more, "satisfaction" is no longer enough. This isn't 1989! "Customer satisfaction" proves NOTHING. Satisfied customers don't tell their friends about you. Only loyal (or, hopefully, INSISTENT) fans (not even customers) tell their friends about you.
So, remember what Oscar Wilde said: "The only thing worse than being talked about is NOT being talked about."
REMEMBER: Get noticed = Get remembered = Get business.
LET ME ASK YA THIS…
What's your "IF Factor"?
LET ME SUGGEST THIS…
Share it here!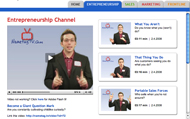 Who's telling their friends about YOUR company?
Tune in to The Entrepreneur Channel on NametagTV.com!
Watch video lessons on getting attracting more business!