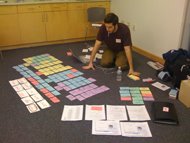 Fourteen people.
Eight hours.
One room.
Zero talking.
God, it was beautiful.
I'd never participated in a Writing Marathon before.
But ever since I read about the idea in Natalie Goldberg's Writing Down the Bones, I knew I just HAD to do it.
See, I'm a writer. That's my occupation. That's what I do.
Now, sure, I'm a speaker and a coach and an entrepreneur, too. But all of those things come from writing. Writing is the baseline. Writing creates everything.
So, as a professional, that's what I spend most of my time doing: Writing.
Four to seven hours. Every single day.
That being said, hosting the Writing Marathon was only partly for me. Mainly, I set it up for my colleagues. Friends of mine who NEEDED to write, but couldn't seem to find the time. Friends of mine who HAD stuff to write about, but couldn't seem to discipline themselves to just sit down and DO it.
I figured if we all had ONE day – no distractions, no excuses – to just sit in a room and write, our shared energy and passion would fuel the creative fire.
Well, it did…
Last Friday's Writing Marathon was one of the most beautiful things I've ever witnessed. And so, I wanted to share a few reflections from the event for those of you who: (1) weren't able to attend, (2) would like to come to the next one, or (3) would like to set up your own Writing Marathon.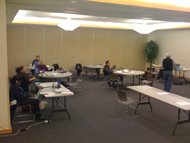 1. Everyone honored each other's writing practice. Nobody talked. Nobody answered cell phones. Nobody's music was too loud. Everybody respected each other's space. Everybody honored each other's energy, passion and creativity. And the best part was, everyone did their thing in their own way. Some people wrote by hand. Some people pounded away on their laptops. Some people took their shoes off and scattered hundreds of colored note cards across the floor. (That would be me.)
2. Everyone got stuff done. During my (brief) opening announcements, I reminded the group that it wasn't a Networking Marathon or an Email Checking Marathon or a Brainstorming Marathon. It was a Writing Marathon. And judging by the physical output I saw around each person's workspace, productivity was rockin! Even my friend Cheri, who enjoys writing about as much as she enjoys colonoscopies, cranked out twenty pages of her new book.
3. Everyone was in a good mood. Imagine surrounding yourself by a dozen or so creative, fun, cool, professional, smart people for eight hours. Can you imagine the energy in a room like that? Totally cool. Meanwhile, it was Friday. It was the middle of December. And the lobby of the Clayton Center smelled like fresh Subway bread. Ahhhh.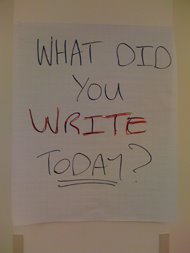 4. Everyone was uncomfortable. For me, it was just another day at the office. For everyone else, it may as well have been a day at the DENTIST. And I didn't realize this until my friend Jeremy pointed it out. "Scott, most people here DON'T like writing." Wow. He was right. For most attendees, this environment – eight hours in silent lockdown with nothing but their thoughts and their laptops – was extremely uncomfortable. Which is a good thing. Creativity flourishes in your zone of discomfort.
5. Everyone gained insight into the science of creativity. As a lifelong student of the creative process, I've learned that inspiration is overrated. I've learned that, no matter how "creative" you feel at the moment, you've still got to sit down at the page and lay some track. It's called The Paradox of Inspiration. So, it was cool to see fourteen people – whether or not they realized it – experience this creative paradigm first hand.
6. Everyone took care of their brains. Every 90 minutes, I invited a bell to sound. This gently informed people that it might be a good time to take a break to refresh their creativity. So, most people did. And just about everybody displaced themselves for lunch. This is very important for long stretches of creative work.
All in all, the Writing Marathon was a great success.
I'm happy people had fun.
I'm happy people got stuff done.
I'm happy people actually showed up.
I'm happy people respected each other's practices.
Can't wait to host another one. Probably April. Keep your eyes open.
LET ME ASK YA THIS…
What did you write today?
LET ME SUGGEST THIS…
For the list called, "9 Things Every Writer Needs to Do Every Day," send an email to me, and I'll send you the list for free!
* * * *
Scott Ginsberg
That Guy with the Nametag
Author, Speaker, Coach, Entrepreneur
scott@hellomynameisscott.com
Who's telling their friends about YOU?
Tune in to The Marketing Channel on NametagTV.com!
Watch video lessons on spreading the word!