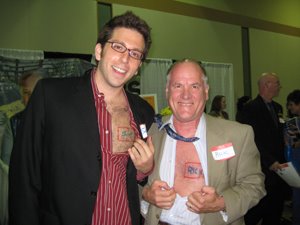 OK, so, this HAS to be on my list called:
"Top Ten Things That Have Ever Happened After One Of My Speeches"
Rick, the president of the KC CVB, came right up to my book table, ripped open his shirt and showed me HIS nametag tattoo.
Zoinks!
Thanks for making my week, Rick.
Man. After 2,787 days, I thought I was the only one. So much for being original!
LET ME ASK YA THIS…
What's the craziest thing you've ever seen an audience member do?
LET ME SUGGEST THIS…
Go to Kansas City. Those guys ROCK!
Never the same speech twice.
Always about approachability.
Watch The Nametag Guy in action here!